Research award for Centre for Research into Environment and Health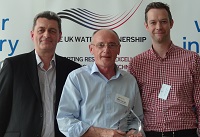 Professor David Kay being presented with the award
The Centre for Research into Environment and Health (CREH) won the Software Tools award at the recent 2015 Research Excellence Framework (REF) 'Impact' Awards, held by the UK Water Industry Forum.
The Water Industry Forum is an alliance of water companies, related consultancies, government research agencies and relevant regulators.
The award was presented to the CREH team at an awards ceremony on Tuesday 30 June in the Crystal, Royal Victoria Dock, London.
CREH were presented with the award for the team's work on microbial standards for recreational waters.
This covered modelling to develop microbial water quality standards and microbial source apportionment, and real-time modelling of bacterial concentrations to deliver compliance with the new Bathing Water Directive.
The awards are a new initiative for the UK water industry and the panel is comprised of senior water industry scientists.
Professor David Kay, Head of CREH at Aberystwyth University said: "All the CREH team have done a really great job here and this award is very pleasing, particularly in light of the fact that it is a judgement by the top UK Water science managers and practitioners, advised by three leading academic water and engineering Professors."
Gary Reed, Director of Research, Business & Innovation at Aberystwyth University, and University REF Manager said: "I am very pleased that Professor Kay and his team have received the recognition they deserve for their world leading research and its associated impact. I'm particularly proud of the contribution my REF team, Hannah Payne and Christine Szinner, made to drafting this award winning impact case study".
Further information about CREH is available here.
AU22315