Bidding farewell to International English Centre summer students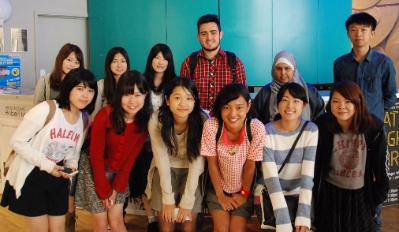 International English Centre students from Japan, China, Saudi Arabia and Spain at the Arts Centre Gathering.
On Friday 21 August, an event was held at the Aberystwyth Arts Centre cinema to celebrate and bid farewell to students from across the world who have been attending the International English Centre (IEC) at Aberystwyth University over the summer.
During the session, the students introduced films they had created describing their happy experiences at the University and their impressions of Aberystwyth and the local area.
This summer the IEC has welcomed 145 students from a wide range of countries including Korea, Morocco, Poland, Germany, Saudi Arabia, France, Italy, Japan, China, Spain, Kazakhstan, Turkey, Iraq, Libya, Oman, Taiwan and Hong Kong. These included students from Aberystwyth University's partner institutions in China, Korea and Japan. Thirty four of the students are attending pre-sessional courses in preparation to commence study at Aberystwyth University in September, while the rest have come for the summer to improve their English language and subject specific skills.
Amongst those taking courses at the IEC this summer are students from Yosano in Japan. This town has historic links with Aberystwyth ever since Frank Evans, a former Aberystwyth resident, returned to Japan to seek reconciliation following his experiences as a prisoner of war in the town during the Second World War. Aberystwyth University is happy to welcome the Yosano students to the IEC and continue to foster this valuable friendship and cooperation.
Also present at the event were film studies students from Shanghai University who have attended a four week English with Film Production Course which was run as a collaboration between the IEC and the Department of Theatre, Film and Television Studies (TFTS). The students exhibited two short films which they have written, filmed and produced with the help of TFTS, and gave a presentation on the history and development of the film industry.
Describing his experiences with the IEC over the summer, Alberto Pascual from Spain said: "You can learn English in so many different ways, but what makes you wake up in the morning is the human beings. If everyone behaves with the same human quality of the staff, teachers and students of IEC, the world would be a better place."
We wish the very best of luck to all the students who have attended Aberystwyth University over the summer and look forward to welcoming them back in the near future.
More information on the courses offered by the Aberystwyth University International English Centre is available here.
AU27415