Professor Richard Beardsworth appointed Director of Ethics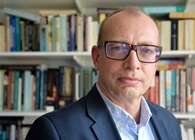 Professor Richard Beardsworth
Dr Richard Beardsworth, Professor of International Politics at the Department of International Politics at Aberystwyth University, has been appointed the University's Director of Ethics.
Professor Beardsworth joined Aberystwyth University in 2013 from Florida International University where he was Professor of International Theory. Prior to this he was Professor of Political Philosophy and International Relations at the American University of Paris.
As Director of Ethics, Professor Beardsworth will oversee the work of developing, publicising and assuring the University's strategic direction in ethics.
As the University's ethics 'champion', he will also work to ensure that research, both by academic members of staff and students, meets high ethical standards and expectations.
Professor Beardsworth will hold the post alongside his academic role at the Department of International Politics.
Professor April McMahon, Vice-Chancellor at Aberystwyth University said: "I am delighted to welcome Professor Beardsworth as the University's new Director of Ethics. Ethics is at the heart of research and I look forward to working with him and colleagues across the University as we enhance Aberystwyth's profile as an ethically literate community."
Speaking of his appointment, Professor Beardsworth said: "The position of Director of Ethics is a very challenging one at this moment in time. The UK Higher Education landscape is rapidly changing, and it is important that Aberystwyth University responds to these changes in a proactive and singular manner.
"In the context of strategic development, I see my main role accordingly as putting in place an ethical framework for the university as a whole. This framework should be short, respectful of academic freedom, but capture what the Aberystwyth University community considers its specific—and exceptional—social and ethical identity in higher education and research. I look forward to working with colleagues to this end."
During his career Professor Beardsworth has worked in the field of international public policy (OECD, International Energy Agency and UNESCO, Paris).
Since turning to international politics as a trained political philosopher, he has become increasingly concerned with the divide between normative and empirical practices in world politics and the lack of global political vision and global leadership that this divide sustains.
His intellectual, research and teaching interests are all concerned with transcending this divide and fostering political responsibility towards global problems.
He is on the editorial board of Global Policy and International Political Theory, and is currently writing a book entitled Political Responsibility in a Globalized Age.
AU33515