Guantanamo law expert to be guest speaker at panel discussion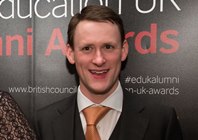 Mitch Robinson - Aberystwyth University alumnus and international law expert.
Aberystwyth alumnus and international law expert Mitch Robinson will contribute to a panel discussion at Aberystwyth University on 4th November at 6pm entitled, 'International Politics and International Law, Theory and Practice: The Case of Guantanamo'.
The event will be hosted in the Department of Law and Criminology where Mitch studied during his time at Aberystwyth University and graduated from with a Masters of Laws (LLM) in 2005.
An international law expert for the 9/11 death penalty case at Guantanamo Bay, Mitch's work was instrumental in obtaining ground breaking reports and precedents from the United Nations regarding due process rights and the rehabilitation of torture victims.
Earlier this year Mitch won the Professional Achievement Award at the US British Council's Education UK Alumni Awards 2015.
Joining Mitch on the panel will be Professor Ryszard Piotrowicz from the Department of Law and Criminology and Dr Kamila Stullerova from the Department of International Politics.
"This event will no doubt provoke fascinating discussion and will provide opportunities for members of the audience to contribute to the debate and put questions to the panel" commented Dr Jenny Mathers, Head of the Department of International Politics at Aberystwyth who will Chair the event.
Professor John Williams, Head of Department, Department of Law and Criminology said "We are delighted to be welcoming Mitch back to Aberystwyth University and are looking forward to him sharing with us his professional experiences and expertise. With a packed programme of activities during his visit, including student seminars and employability skills session together with the panel discussion, we are very grateful to Mitch for the time he is spending with us at his alma mater ."
The panel discussion event will be held in the Department of Law and Criminology on the Llanbadarn Centre on Wednesday 4th November 2015. Refreshments will be available in the foyer of the Elystan Morgan Building from 17.30 with the panel discussion commencing at 18.00. This free event is open to the public with no pre-booking required.
AU34715