Geography graduate set to take up research role with Caltech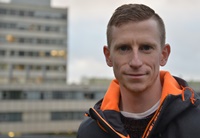 Nathan Thomas
Aberystwyth University geography graduate Nathan Thomas will be taking up an exciting new post at Caltech (California Institute of Technology) at the beginning of January 2016.
Originally from Aberdare in South Wales, Nathan has just completed a PhD in Remote Sensing at Aberystwyth University. He joins Caltech in Pasadena, California as a post-doctoral research fellow, working at NASA's Jet Propulsion Laboratory, JPL.
Using satellite images from data provided by the Japanese Space Agency, Nathan has been monitoring changes in mangrove swamps and forests across the tropics, and spent three months at Caltech during 2014, undertaking field work in Ecuador.
Nathan said: "I've had some fantastic experiences at Aberystwyth University which have made this move to Caltech possible. For two consecutive summers, as an undergraduate student, I visited southern Jordan with Professor John Grattan to collect sediment samples for a study into the metal content of bronze-age copper smelting sites, and of course, there was the excellent field trip to the glaciers and volcanoes of New Zealand. The first visit to Jordan fired my interest in continuing with my academic career, and after only a week on the Masters in Remote Sensing, I just knew this was for me."
He added: "Caltech is one of the best universities in the world and I am delighted to be joining the remote sensing group there in January. To work for one of the highest ranking institutions in the world has long been an ambition of mine, and of course, none of this would have been possible without the support of everyone at Aberystwyth University".
At Caltech, Nathan will be using data provided by a constellation of European Space Agency satellites to monitor changes to mangrove swamps in central and south America, and in Africa.
"Mangrove swamps are an important and threatened ecosystem, and have lost over a third of their area over the past 30 years" said Nathan. "They're a significant store of carbon, a vital source of fish and timber for local communities, provide storm defences and sustain over a thousand species of plants and animals."
Building on work he has done during his time at Aberystwyth, Nathan will be using software developed at Aberystwyth at Caltech.
"Aberystwyth University is a leading centre for using satellite imaging technology and big data to monitor changes to the natural environment, and combines this with unmanned aerial vehicles, aerial photography and radar", added Nathan. "This, combined with the advanced software developed here, has certainly opened the door for me to move to Caltech."
Dr Peter Bunting, Head of the Earth Observation and Ecosystem Dynamics Laboratory at Aberystwyth University said: "Nathan has been an outstanding student throughout his time here in Aberystwyth, always looking to get involved and taking the opportunities which are available. Through studying Geography in Aberystwyth there are a huge range of opportunities to get involved in the research of staff, travel awards and overseas field courses. What you put into life is what you get out and Nathan is a prime example of this, taking the opportunities which became available throughout his time in Aberystwyth, such as the internship during his PhD at Caltech with NASA JPL which has led to the job he is now moving on to.
"For us within the Earth Observation and Ecosystem Dynamics group within the Department of Geography and Earth Science, it is always immensely pleasing to see our students go on to achieve their dreams and remain active in a field for which we have trained them. Many of our MSc and PhD students are employed all over the world within the field of remote sensing and it is pleasing to see Nathan continuing that trend.
"I'm looking forward to continuing to work with Nathan over the coming years in what I expect will be a very fruitful on-going collaboration; further expanding our network of academic links across the world", he added.
During his time at Aberystwyth, Nathan has been a volunteer with the local RNLI lifeboat for three years and has worked as an Ambassador for the Royal Geographical Society.
AU39815