Learned Society of Wales elects new Fellows from Aberystwyth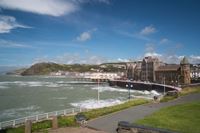 Four current and former members of staff and an alumna of Aberystwyth University have been elected Fellows of the Learned Society of Wales.
Professor John Doonan, Professor of Genetics and Director of National Plant Phenomics Centre at the Institute of Biological, Environmental and Rural Sciences, and Professor Sarah Prescott, Rendel Chair of English Language and Literature are elected as Fellows.
Also elected are Professor Michael Hambrey, Professor of Glaciology and Emeritus Director of the Climate Change Consortium of Wales and Professor Len Scott, Emeritus Professor of International History and Intelligence Studies.
Also honoured is artist Mary Lloyd Jones, Fellow of Aberystwyth University and a keen advocate for the planned redevelopment of the University' Old College, where she has a studio.
The new Fellows were announced by the Learned Society of Wales on Wednesday 20 April.
The Society has more than 420 Fellows, distinguished men and women from all branches of learning who are prominent figures within their respective academic disciplines or professions.
By bringing together the most successful and talented fellows connected with Wales, this range of expertise enables the Learned Society of Wales to contribute to the shared purpose and common good of advancing and promoting excellence in all scholarly disciplines including providing independent and expert advice to Government.
Sir Emyr Jones Parry, the Society's President and Chancellor of Aberystwyth University said: "I am delighted to welcome such a wide range of outstanding individuals to the Fellowship this year. Each new Fellow is elected on the distinguished merit of their work. These new Fellows will help strengthen our capacity to support excellence across all areas of academic and public life, both in Wales and abroad.
"It is also encouraging that the proportion of female Fellows elected (26%) represents the Society's continuing efforts to improve the representation of women amongst the Fellowship. More women are reaching the highest levels of their discipline, and this is rightly being reflected in their election to the Fellowship of the Society."
The Learned Society of Wales (LSW) set up in 2010 is an independent, all-Wales, bilingual, self-governing, pan-discipline educational charity, that provides public benefit including the recognition of scholarly excellence, promotion of research and provision of expert, independent, scholarly advice on a variety of public policy issues.
AU14516