Aberystwyth alumna to be honoured by the Gorsedd of the Bards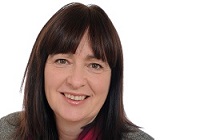 Liz Saville Roberts MP
Liz Saville Roberts MP, who learnt Welsh during her time at Aberystwyth University and became Plaid Cymru's first female Member of Parliament, is among those to be honoured by the Gorsedd of the Bards at the Monmouthshire and District National Eisteddfod this summer.
The honours, presented annually, are an opportunity to recognise individuals from all parts of the country for their achievements and their commitment to Wales, the Welsh language and to their local communities across the whole of Wales.
Originally from Eltham in south-east London, Liz Saville Roberts attended university in Aberystwyth when she was eighteen to study languages, and it was here that she learnt Welsh.
Liz said: "I would dearly like to thank the Welsh and Irish lecturers who taught me during my time in Aber. They gave me far more than an academic education. First and foremost, they gave me a vocation."
After a period working in London, Liz returned to Wales to work as a journalist. She represented Morfa Nefyn as a councillor for over ten years and worked in Coleg Meirion Dwyfor supporting and developing post 16 Welsh medium education. Until her election as an MP, she was Director of Bilingualism at Grŵp Llandrillo Menai.
In May 2015 she was elected MP for Dwyfor Meirionnydd, becoming Plaid Cymru's first female member in Westminster.
The Monmouthshire and District National Eisteddfod is held on Castle Meadows, Abergavenny from 29 July – 6 August. Aberystwyth University will have a stand bustling with events and activities throughout the week.
Liz Saville Roberts will be honoured at a special ceremony on the Eisteddfod Maes on Friday 5 August.
AU15516