Saudi Arabia internship for IBERS student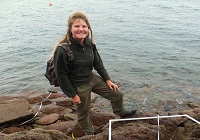 Janna Leigh Randle
Janna Leigh Randle, in her third year studying Marine and Freshwater Biology at IBERS is one of only three students worldwide to be awarded a prestigious internship at KAUST (King Abdullah University of Science and Technology) in Saudi Arabia.
Janna graduates in July this year and will then start her 6 month internship studying ecosystems and the effects of temperature changes on coral reefs in the Red Sea where little research has been undertaken to date.
Janna will be working for Professor Carlos Duarte, a world renowned expert on the impacts of climate change in marine ecosystems, and a speaker at COP 21 the United Nations Conference on climate change in Paris last year.
Janna said "I am thrilled to have been awarded this unique opportunity so early in my career. I am really looking forward to meeting my co– interns and can't wait to get into the research in Saudi Arabia.
Studying for a degree in Marine and Freshwater Biology may sound like an unlikely choice for a young person from rural Barnoldswick near Skipton in Lancashire, but I love the subject and I have salt in my blood as my great uncle was a merchant seaman and Dad is from Whitby and was a keen fisherman before he got into scuba diving. "
Janna made her choice between Newcastle and Aberystwyth Universities for two main reasons. She found her experience of Open Day in the city overwhelming, but the lecturers in IBERS were passionate and inspiring, and the promise of getting involved in research as an undergraduate student clinched the deal.
As well as studying and attending field trips in Portugal and Scotland, in her second year at Aberystwyth Janna applied for and got a Research Assistant post working with PhD students focusing on human impacts in the marine environment.
Janna currently features in a video on the IBERS website giving a student's view of living in Aberystwyth " I've not been home this year….I've stayed in Aber over the Summer…that's how much I love it here" she said.
Whilst looking forward to her time in Saudi Arabia she says she will miss the town and will definitely return.
Janna has some impressive marine credentials – she was snorkeling at the age of 7 and has been a keen scuba diver since the age of 11. She was a rescue diver at 16 and qualified as a DiveMaster in the Carribean at 18 just before coming to University.
She has had marine conservation experience every Summer including a Marine Conservation Internship in Thailand and completed a Coral Reef Ecology course in the Maldives at the end of her second year, during which she developed an interest in the effects of climate change.
Dr Pippa Moore, Scheme Coordinator for Marine and Freshwater Biology and Leader of the Animal and Aquatic Sciences Theme at IBERS said "Janna is an incredibly enthusiastic student with a real passion for marine systems and their conservation. I have no doubt that this opportunity in Prof Duarte's lab will act as a stepping stone to an incredibly successful career in marine biology".
AU17016