Y Gwyll/ Hinterland secures USA broadcast deal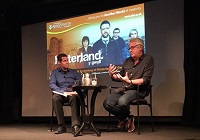 Honorary Fellow Ed Thomas discusses y Gwyll/ Hinterland at our NY alumni event
The award-winning crime noir drama Y Gwyll/Hinterland will soon be seen on free-to-air American screens. The distributor all3media International has sold the series to American Public Television (APT).
The announcement was made by senior series producer and Aberystwyth University Honorary Fellow Ed Thomas in an event organised by the University for its alumni in New York this week.
Filmed in Aberystwyth and the surrounding areas, including University locations, the cast and crew are currently working on the third series, which will be shown first on S4C in October 2016.
The English language version of the first series of Y Gwyll/Hinterland, will be shown in 13 US TV Markets from 30 June onwards, including Kansas City, Seattle, Oregon, Milwaukee, Buffalo NY and Boston.
The crime drama is already shown on Netflix in the US and has been sold across the globe; including many European countries such as Germany, Netherlands, Norway, Finland, Belgium, Slovenia, France and Denmark.