IronMan Challenge Looms for Uni Chief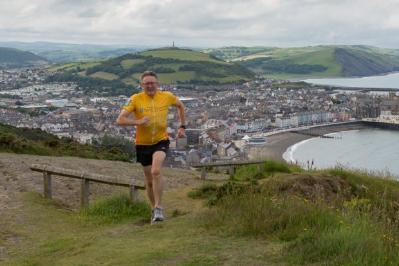 Professor John Grattan during one of his training runs up Constitution Hill in Aberystwyth.
Aberystwyth University's Acting Vice-Chancellor is in final preparation for one of the biggest physical challenges of his life.
On Sunday 18 September 2016, Professor John Grattan will join around two thousand athletes in the annual IronMan Wales event in Tenby, Pembrokeshire.
His mission will be to complete a 2.4-mile sea swim, a 112-mile cycle ride and a full marathon in less than 17 hours.
It's a daunting prospect for anyone but the 56-year-old academic says his motivation stems from his fund-raising cause.
Professor Grattan is raising money for student hardship and student welfare as part of the Aber Fund which allows the University to offer financial support to students who find themselves in serious financial crisis through no fault of their own.
Usually it's the generosity of Aberystwyth's Alumni that makes the fund possible, but this year the Acting Vice Chancellor has made it his mission to contribute and raise awareness.
Student hardship and student welfare are close to his heart because of his own personal experience growing up. He couldn't go to university when he was eighteen years old because he needed to stay home and help support his parents and siblings.
"When I eventually reached university at the age of 26 it changed my life, giving me a new and broader outlook. I want to try and ensure that others have the same opportunities to reach their potential," said Professor Grattan. "It's all about the student experience and that's at the heart of everything we do here at Aberystwyth University."
Keeping fit has long been important to Professor Grattan but in preparation for IronMan Wales, he embarked on a rigorous training schedule and has been working closely with staff at the University's Sports Centre and Sport Scientists from the Institute of Biological, Environmental and Rural Sciences (IBERS).
"When I started training hard at the beginning of the year, the 18th of September seemed a long way off but it's now only a matter of days and I hope I've done enough," said Professor Grattan.
"I've certainly lost some weight during the past few months, I'm in much better shape than I was and I've discovered muscles I never knew I had. Whatever happens Sunday, I'm determined to carry on keeping fit. We're lucky in Aberystwyth to have such fabulous scenery when it comes to cycling and running. I've also become a big fan of swimming in the beautiful waters of Cardigan Bay - weather permitting of course."
Olympic gold medallist Ed Clancy is among those who've wished Professor Grattan well after visiting the Aber Cycle Fest earlier this year.
You can make a donation and find out more about the challenge on ironmanvc.everydayhero.com/uk/johngrattan.