QS World University Rankings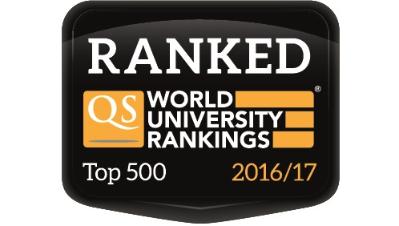 Logo showing that Aberystwyth is in the top 500 of the 2016 QS World University Rankings
Aberystwyth University is ranked 51st in the UK and is in the top 500 universities worldwide according to the latest QS World University Rankings.
The QS World University Rankings looks in detail at 916 higher education institutes in 81 different countries.
It lists the world's leading universities according to six performance indicators: academic reputation; employer reputation; the ratio of academic staff to students; citations per faculty; and the ratios of international staff and students.
The latest figures show a significant increase for Aberystwyth University in Citations per Faculty, which assesses the number of times research by academics is referred to in publications by others. Generally, the more often a piece of research is cited, the more influential it is. So the more highly cited research papers a university publishes, the stronger its research output is considered.
Acting Vice Chancellor of Aberystwyth University, Professor John Grattan, said: "The latest QS World University Rankings are further evidence of a steady increase in the quality of the education at Aberystwyth University and our academic reputation. We are particularly pleased to see the increase in the number of times papers by our academics are cited by others, which again demonstrates our continued commitment to research excellence."
Earlier this year, four academic subject areas at Aberystwyth were described as being amongst the "World Elite" by the QS World University Rankings by Subject. 
Aberystwyth was listed as one of the top 100 universities in the world for the study of Geography, Politics and International Studies, and Agriculture and Forestry featured in the top 150 worldwide, with Environmental Science featured in the top 300.