Coleg Cymraeg Scholarships for Three Doctorate Students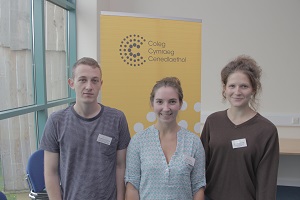 L-R: Gruffydd Lloyd Jones, Rebecca Evans and Heddwen Lleucu Daniel
Three students have won Coleg Cymraeg Cenedlaethol (CCC) scholarships to study for doctorate degrees at Aberystwyth University.
Rebecca Evans from Bala, Gruffydd Lloyd Jones from Pwllheli and Heddwen Lleucu Daniel from Aberystwyth are among a total of ten PhD students across Wales who will receive CCC funding over the next three years.
Both Rebecca and Gruffydd will prepare for doctorate degrees at Aberystwyth University's Institute of Biological, Environmental and Rural Sciences (IBERS).
Having completed an MSc in Biomedical Sciences at Bristol University, Rebecca will be expected to teach elements of biochemistry through Welsh and use her expertise to develop a brand new degree entitled 'Biology and Human Health.'
Gruffydd will study the Rhododendron in Wales, and its effects on biodiversity. He also hopes to develop ways of controlling it. He's keen to further develop his interests in ecology and the environment, as well as preparing more bilingual graduates for the environmental and biological sectors in Wales.
Heddwen has decided to study youth justice and in particular the relationship between adolescents and their schools at Aberystwyth University. She hopes to interview professional workers and young people as well as contribute to the rather limited Welsh language material that currently exists within the field of Criminology.
Dr Rhodri Llwyd Morgan, Pro Vice-Chancellor at Aberystwyth University, said: "We are delighted that these three bright students have chosen to do their doctorates in Aberystwyth. Nurturing innovative research is critical factor to our mission as a higher education institute, as was shown in the 2014 Research Excellence Framework where 95% of the research activity we submitted was of an internationally recognised standard or higher. We work closely with the Coleg Cymraeg Cenedlaethol across undergraduate and postgraduate programmes, and we're grateful for the funding which has been awarded to Rebecca, Gruffudd and Heddwen."
Details of all ten doctorate scholarships awarded this year by the Coleg Cymraeg are available online at: http://www.colegcymraeg.ac.uk/en/aboutus/news/pennawd-9791-en.aspx