Fellowship welcomes Indian writer to Wales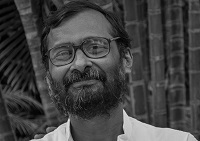 Venkateswar Ramaswamy
One of India's leading writers is spending three months at Aberystwyth University following the launch of Literature Across Frontiers' (LAF) inaugural Charles Wallace India Trust Creative Translation and Writing Fellowship.
The Charles Wallace India Trust supports a number of fellowships including four in the area of creative writing and translation.
The LAF Aberystwyth Fellowship offers a new opportunity to live and work in Wales for a period of three months.
The Fellowship is the first of its kind in Wales and the latest in a series of similar residencies already open to Indian literary translators and writers at the universities of East Anglia, Chichester, Kent and Stirling.
Alexandra Büchler, director of Literature Across Frontiers said: "We are delighted to have Venkateswar Ramaswamy with us as the inaugural CWIT fellow and immensely thankful to the Charles Wallace India Trust for making the residency possible.
"Rama, as we soon started to call him, will be working on the translation of a novel by the contemporary Bengali author Manoranjan Byapari into English and writing a long essay about his experience of translating the iconic anti-establishment voice of Bengal, Subimal Misra."
Venketswar Ramaswamy is a non-fiction writer and translator. As an activist working for the rights of the labouring poor in Kolkata, he has written about workers, squatters, slums, poverty, housing and resettlement, and has been at the forefront of efforts to envision and initiate the rebuilding of his city from the grassroots.
Since 2005, he has been translating the short fiction of the Bengali writer Subimal Misra.
Ramaswamy said of his work: "My background as an activist working in Kolkata drew me to reading and translating Misra. Misra's name is largely unknown outside India, but in Bengal he is almost a cult figure in the world of avant-garde literature and is an influential cultural figure defining an intellectual counter-culture through his unique style directing a severely critical eye at Bengali society, culture and politics. "
Two collections of Ramaswamy's translations of Misra's stories, The Golden Gandhi Statue from America (2010) and Wild Animals Prohibited (2015), have been published by HarperCollins India.
A third volume comprising two anti-novellas is forthcoming, and a final collection of Misra's late stories is being translated.
Literature Across Frontiers is based in the Mercator Institute for Media, Languages and Culture at Aberystwyth University.
AU32416