Language Exchange Platform launched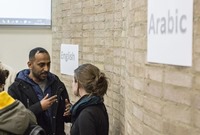 The latest edition of Language Exchange Platform has been launched to promote language learning opportunities for students and staff at Aberystwyth University.
Established by Antonio Barriga Rubio, Modern Languages co-ordinator at the University's Department of Lifelong Learning, the Language Exchange Platform brings together people who wish to learn new languages.
Known also as 'tandem learning', participants are partnered with people from other countries or who speak other languages, so they can learn about each other's languages and cultures.
Antonio said: "With more than 90 nationalities represented on its campuses, Aberystwyth is a truly multicultural and multilingual University. The Language Exchange Platform is designed to complement the University's long standing and popular language courses and is open to students and staff from all departments."
Originally launched in 2015, the Language Exchange Platform offers 36 languages from Welsh to Hungarian and Korean to English, and has the support of the University's International Office and Erasmus Society.
Rosa Soto, International Office Adviser at Aberystwyth University said: "The Language Exchange Platform is an excellent example of a simple concept that has huge benefit to all those that take part in it. Past experience of similar initiatives show that the most successful schemes are those that promote 'student-to-student' support. The Language Exchange Platform does not only connect home and international students, staff and local community, but due to the nature of language exchanges it is also promoting the sharing of cultures and promoting the diversity of our student population.
"International students are extremely proud of their cultures and are keen to make friends with home and other international students in order to share experiences. The Language Exchange Platform provides them with a structure in which to do this.
"Post-Brexit, all these aspects are extremely important to the UK Higher Education sector to ensure that the UK is seen as a welcoming place to come and study," she added.
Originally from South Africa, Mila de Clercq is President of the Erasmus Society at Aberystwyth University.
"I came to Aberystywth in 2012 to study Accounting and Finance and Economics. But after the first year, I decided that Accounting and Finance was not for me," said Mila.
"It has been a life-long dream of mine to be fluent in French, so I applied to join the Department of Modern Languages. One of the first things I did after being accepted was to sign up to the Language Exchange Platform where I was partnered with a 26 year old economist in Paris called Sara.
"This was one of the best things that I have ever done for my language skills. Sara helped me with everything, from grammar to translations and even taught me some colloquial phrases all via the internet. In return I helped her with her English - which was a fantastic way for me to learn the more academic sides of a language I use daily.
"Studying French led to the best year of my life, the year abroad, where I found out what it meant to be part of the Erasmus Student's community and drove me to run for President of the Erasmus and European Languages Society here at Aber. Learning a new language is definitely one of the best things I've done. Thanks Tandem for making it easier and more accessible to everyone," she added.
If you would like to find more about the Language Exchange Platform, visit https://tackk.com/language-exchange.
To find more about Languages at the School of Education and Lifelong Learning visit http://www.aber.ac.uk/en/lifelong-learning/modern-languages/.
AU34116