Pride at Aberystwyth University in Stonewall index success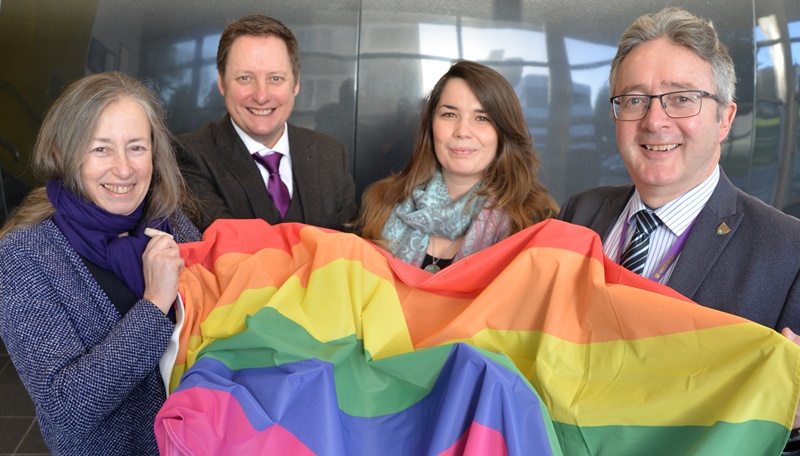 Celebrating Aberystwyth University's rise in the Stonewall Workplace Equality Index are (left to right) Debra Croft, Director of Equality, Gary Reed, Director - Research, Business & Innovation, Ruth Fowler Communications and Equalities Officer and Professor John Grattan, Acting Vice-Chancellor.
Aberystwyth University has scored another notable success after climbing more than 100 places in a UK-wide survey that measures its strength as an inclusive employer.
Stonewall's latest Workplace Equality Index received submissions from over 400 UK businesses and institutions.
The annual Index is used to assess their achievements and progress on lesbian, gay, bisexual and transgender (LGBT) inclusion in the workplace.
This year, Aberystwyth University has climbed 121 places to 116th across the UK and is the 12th best employer in Wales.
Aberystwyth University's Acting Vice-Chancellor, Professor John Grattan said: "I am very proud of our fantastic and inclusive staff community at Aberystwyth University whose dedication to equality has shone through in this phenomenal climb in the Index."
Debra Croft, Director of Equality at Aberystwyth University said: "We are delighted with what has been achieved and I congratulate Ruth Fowler and members of the University's LGBT team on their hard work and ensuring the University's continued focus on being an exemplary employer"
Ruth Fowler, Communications and Equalities Officer at Aberystwyth University, said: "Stonewall's annual index takes into account many differing factors, from the support we offer for LGBT people in the workplace to comprehensive staff surveys that consider the views of employees and all of this needs to be evidence based. To come so far in the last 12 months demonstrates the University's sustained focus on being an inclusive employer and I have no doubt that this contributes to making the student experience so much more positive."
This is the 13th year that Stonewall has compiled the index and Andrew White of Stonewall Cymru believes that employers now fully embrace the principle of inclusion.
Andrew White said: "Aberystwyth University and all those who have made this year's Top 100 Employers list have done a fantastic job, and really do put equality and inclusion at the forefront of their work. We were thrilled to have 439 submissions for this year's Index, one of the most competitive yet, and I would like to thank each and every organisation that took part. With their continued efforts and hard work, we will continue to work toward a world where all lesbian, gay, bi and trans staff are welcomed and accepted without exception in their workplaces."
The Aberystwyth University LGBT network meets once a month with the next meeting taking place on Friday 20 January 2017 at 2.30pm in the Arts Centre Café. The group are currently planning events for LGBT History Month which takes place in February.
Further information about the group is available on the Aberystwyth University LGBT Network webpage and from Ruth Fowler ruf@aber.ac.uk.