Aberystwyth University students set for Japan visit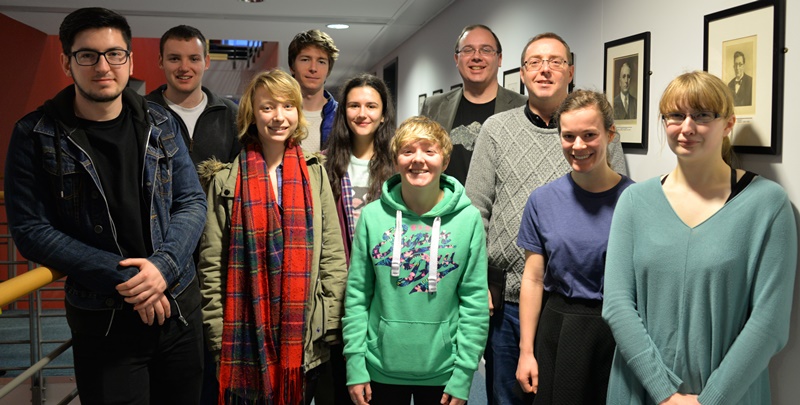 The crew that will be travelling out to Yosano, with Creative Writing lecturer Dr Val Nolan (right) and Professor Gary Rawnsley (third from right)
Historic links between Aberystwyth and the Japanese town of Yosano will be strengthened this week as students from Aberystwyth University embark on an eleven-day visit.
Two hours north of Kyoto on Japan's west coast and with a population of around 24,000, Yosano established close links with Aberystwyth in the 1980s thanks to the work of former prisoner of war, the late Frank Evans.
Originally from Llanwnnen near Lampeter, Mr Evans was captured following the battle of Hong Kong in 1941 and imprisoned at Oeyama near Yosano where he worked in a nickel mine and smelting works.
Following the publication of his memoires Roll Call of Oyeama POW Remembers, Mr Evans revisited the camp in 1984 and erected a memorial to his comrades at the site.
In subsequent years, he sought reconciliation and friendship with his former captors which led to exchange programmes between Aberystwyth and Yosano.
This year's visit is the second from Aberystwyth University and will see the students staying with local host families.
The group will be invited to participate in a wide range of activities including cultural events, visiting local schools and meeting the town council.
Last year, students also learned how to dye cloth and make noodles, and visited Kyoto, the spiritual capital of Japan.
The visit has been organised by Director of International Academic Strategy and Professor of Public Diplomacy at Aberystwyth University, Professor Gary Rawnsley.
Professor Rawnsley said: "This is a wonderful opportunity for our students to see a different culture and carry on the friendship that Frank Evans established so many years ago. We are grateful for the financial support of the Departments and the hospitality of the families in Yosano and Yosano Town Council, who have made this this important trip possible."
Second year undergraduate Psychology student Alys Galal visited Yosano in January 2016.
Amongst the highlights of Alys' time in Yosano were a visit to the Frank Evans memorial and a traditional kimono dressing session in the company of local women.
"We had an amazing ten days in Yosano with activities organised every day", said Alys. "Staying with host families meant our visit was much more of a cultural experience than would have been the case had we stayed in hotels. Even though my host family did not speak English we had great fun communicating using sign language and we have kept in touch. I'm hoping that their daughter will come to stay with me one day."
Places on the trip have been offered to those who were successful in an essay competition where they were asked to explain why they would make good ambassadors for Aberystwyth in Japan.
The eight successful students will fly out to Japan on Wednesday 25 January 2017, accompanied by Creative Writing lecturer Dr Val Nolan.
Following their return, the students will deliver presentations highlighting their experiences in Japan during One World Week which takes place in March.