New doctorate scheme for working professionals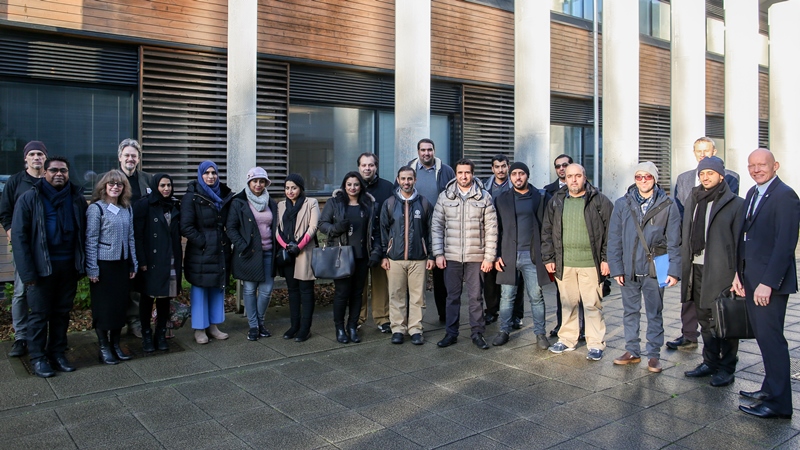 United Arab Emirates professional doctorate programme students at Aberystwyth University with senior University staff.
A group of 16 students from the United Arab Emirates (UAE) are in Aberystwyth this week for the start of the University's newly relaunched professional doctorate programme.
The scheme is aimed at professional people who are keen to study for a doctorate whilst continuing to work.
The first cohort of students from the UAE will follow a blended learning course which will include four residential visits to Aberystwyth as well as distance learning.
Their research will focus mainly on the fields of Information Studies and Business Management.
The project is being led by Professor Judy Broady-Preston, Director, Institute of Professional Development with Professor Reyer Zwiggelaar, Head of Aberystwyth's Graduate School, directing the development and delivery of the scheme.
Professor Broady-Preston said: "Our newly relaunched Professional Doctorate is intended to allow qualified professionals to study for a doctorate while continuing in work and to conduct doctoral level research, which may be based upon their professional practice. Our blended approach to learning means that working people can combine study with a busy lifestyle – wherever they live.
"We are delighted to welcome our first cohort from the United Arab Emirates this week and look forward to working with them over the next five years of their study."
Professor Zwiggelaar said: "Our Professional Doctorate is based on a number of modules in the first year, which cover generic research training and work-based research. This is followed by a work based research project in the second and third year, which will be developed in close collaboration with a supervisor.
"A professional doctorate will be awarded in recognition of the successful completion of an approved taught programme of study, together with successful completion of further study and research."
The Director of Research and Thematic Leader for Management at Aberystwyth's Institute of Business and Law, Hugh Preston, and the Director of Research at the Institute of Professional Development are also involved in the delivery of the programme.
You can find out more about Aberystwyth University's Professional Doctorate and how to apply online.