Penparcausaurus to join Archaeopteryx exhibition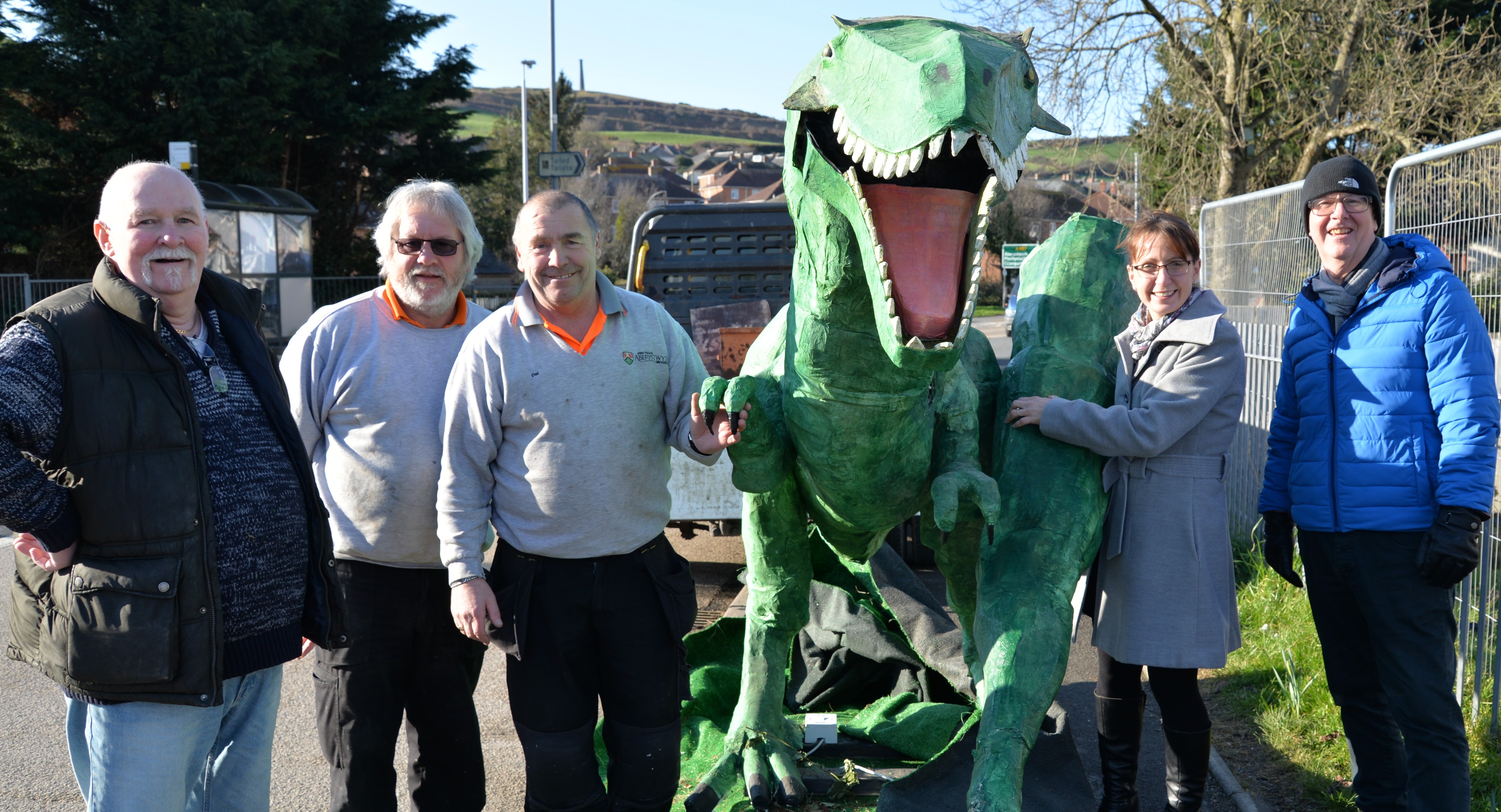 Dave the Dinosaur making his way from Penparcau Community Forum's offices to Old College accompanied by (left to right) George Barratt, Penparcau Forum, Jeff Dowse and Dai Gornall from Aberystwyth University's Property Services Team, Nia Davies, Aberystwyth University Old College Project and Bryn Jones, Penparcau Forum.
An 11-foot long dinosaur built by a Penparcau community group for Aberystwyth's annual carnival is to feature in a Jurassic heritage exhibition in Old College.
Dave the Dinosaur will be on display in the Quad alongside the main Archaeopteryx exhibition, which will be officially opened by wildlife expert and television presenter Iolo Williams at 6.30pm on Tuesday 14 February.
The lifelike model of a Tyrannosaurus Rex was made by members of the Penparcau Community Forum, an organisation set up to develop sustainable and inclusive activities and facilities for the benefit of local people.
Complete with moving jaws and a thunderous roar, Dave formed the centrepiece of the Forum's Jurassic Penparcau float at the 2017 Aberystwyth Carnival and was awarded the prize for Best Overall Float.
Visitors to Old College will walk past Dave on their way to the main exhibition featuring Archaeopteryx, a bird-like dinosaur with sharp teeth and claws.
Funded by the Heritage Lottery Fund (HLF), the Archaeopteryx exhibition is on loan from Amgueddfa Cymru - National Museum Wales who have also collaborated with Aberystwyth University to help showcase the institution's own fossil collections.
Dating from the late Jurassic period around 150 million years ago, Archaeopteryx is believed to be the link between prehistoric dinosaurs and the modern bird.
As the exhibition is open over the school half-term and Easter holidays, interactive heritage sessions for families are being organised in partnership with Ceredigion Museum.
Children are also encouraged to bring their own toy dinosaurs when they visit and take a photo with Dave who stands 7-feet tall, 4-feet wide and 11-feet long.
Karina Shaw, Director and Trustee of Penparcau Community Forum, says she's delighted to see Dave the Dinosaur on public display again.
"The process of making Dave for last summer's carnival float was wonderful. It helped to build stronger relationships in our community. It gave people a network to lean on in tough times and a group to share ideas and skills with. For some, it was a great source of therapy. For others, it was a chance to reconnect with their community and feel part of something special. It has made people proud of where they come from and all they have achieved and we'll be able to share that now by bringing Dave to this high-profile exhibition in Old College."
Louise Jagger, Director of Development and Alumni Relations at Aberystwyth University, said: "It is wonderful to see the way in which this Jurassic Heritage exhibition has come together. We have worked in close collaboration with Amgueddfa Cymru – National Museum Wales and the HLF to bring Archaeopteryx to Aberystwyth, and the project in turn has inspired the Penparcau Community Forum to bring Dave the Dinosaur back into the limelight once more.
Bryn Jones is the Co-ordinator of the Penparcau Community Forum and a member of the Old College Project Board: "Dave the Dinosaur had a tremendous reception when he first appeared at Aberystwyth Carnival last year and I'm sure he will delight visitors to the Archaeopteryx exhibition at Old College. This project shows how local organisations can work together in partnership and we look forward to seeing the transformation of Old College into a vibrant centre which brings everyone together, offering employment and training opportunities as well as showcasing learning, research and enterprise."
The Archaeopteryx exhibition has been made possible thanks to a grant of £9,800 from the Heritage Lottery Fund, which is being supplemented with a generous gift of £5,000 from Dr Terry Adams, geologist and Honorary Fellow of Aberystwyth University, and £3,700 from the AberFund.
Richard Bellamy, Head of HLF in Wales added: "Thanks to funding from National Lottery players, this project has created a new opportunity for established organisations to work together for the benefit of local people and tourists. We know that there is a lot of interest in the Jurassic period and this funding means that more people will get to see and find out about important collections that wouldn't otherwise be available in Aberystwyth. HLF is delighted to give its support".
Dr Ian Scott and Professor Emeritus Richard Hinchliffe from Aberystwyth University's Institute of Biological, Environmental and Rural Sciences, and Dr Bill Perkins from the Department of Geography and Earth Sciences, are providing additional content for the exhibition.
After launch night on 14 February, the exhibition will be open Monday-Saturday from 10am-4pm until 21 April and admission is free.
You can read more about the making of Dave the Dinosaur in a blog post by Karina Shaw written in 2016.