'We are Legends': Students host art workshops at the National Library of Wales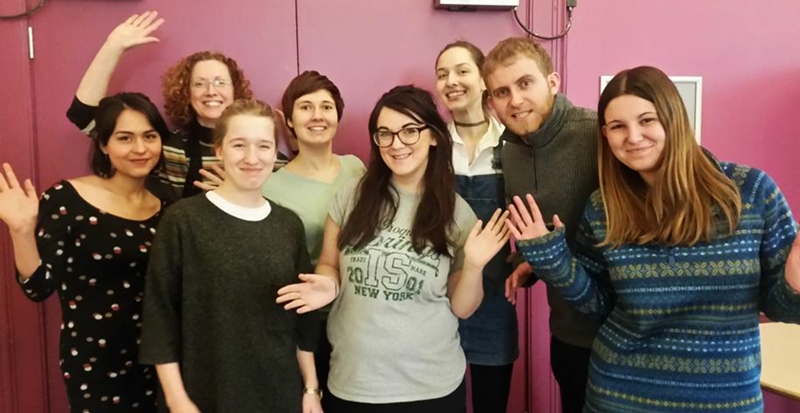 Members of the student team who have been organising the 'We are Legends' sessions at the National Library of Wales.
Aberystwyth University students will be encouraging children and young people to get creative in a series of practical art workshops at the National Library of Wales between 22 and 25 February 2017.
The workshops explore the legends of Wales and tales of ancient heroes, mystery and magic, with sessions on making masks, working with clay, painting and creating self-portraits.
There will also be a session dedicated to the mysterious world of the Aztec.
Developed around the theme 'We are Legends', the week's activities build on Visit Wales' 'Year of Legends' campaign and have been devised by a team of volunteer students on the University's Museum & Gallery Education and Interpretation module.
Alison Pierse, Art and Design Coordinator for the School of Education and Lifelong Learning, said: "Students have taken it on themselves to run this volunteer programme for many years, delivering lively learning opportunities for local youngsters and families.
"For the students, it offers an invaluable chance to gain experience of designing and delivering activities to help look at art works in a different way and widen access to our museums and libraries. For me, it is a privilege to witness the students' putting their learning into practice."
All sessions are free to attend and take place at the National Library of Wales. Booking is essential with tickets available online or by calling 01970 632548.
The 'We are Legends' programme:
Wednesday 22 February
2pm - 4pm
PhotoBox - Dress up and create masks
Thursday 23 February
11am – 1pm
Clay workshop - Come and make a head in clay. Self-portrait or freestyle.
2pm - 4pm
Express your Selfie – Create a beast self-portrait with craft materials
Saturday 25 February
11am – 1pm
Aztec Legends – experience another age and build Aztec structures
2pm – 4pm
Paint a Legend - Paint your own heroes, legends and myths
Lifelong Learning student Candy Bedworth is one of those taking the lead: "Working with children is a great experience, they don't confine themselves to rules and expectations so every child creates something truly unique. We're fortunate in Aberystwyth to have these opportunities to take what we've learnt and apply it in such a practical way and in such a fantastic location as the National Library.
"For me personally I'm particularly looking forward to the Clay Workshop where you can create either a self-sculpture or a mythical beast – I can't wait to see the results."
Rhodri Morgan, Education Officer at the National Library is looking forward to welcoming the budding artists: "We're very fortunate to be able to work so closely with the University on a variety of activities and Student Volunteering Week highlights the students' willingness to engage actively with the local community – and the good news is that there's so much interest with some of the sessions already full."