Aberystwyth University celebrates international community with One World Week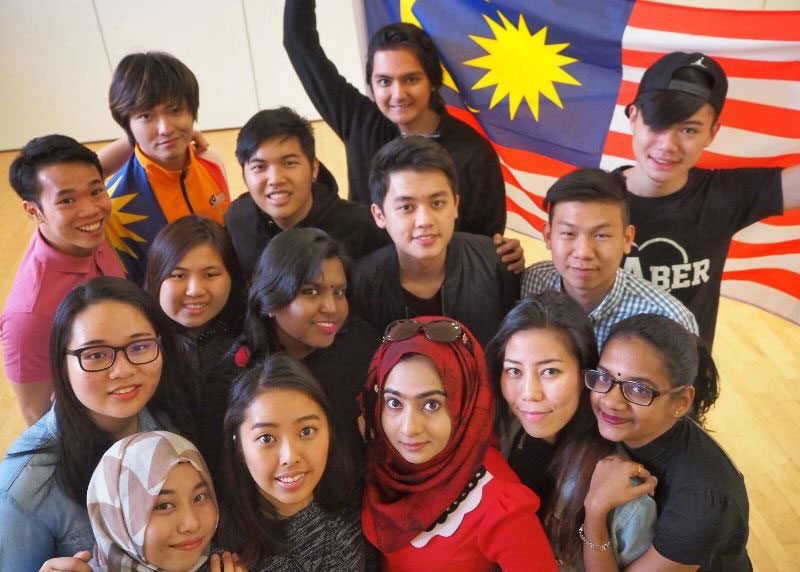 Members of the Malaysian student community at Aberystwyth University preparing to celebrate for Malaysia evening 2017.
The Aberystwyth Malaysian Society will launch Aberystwyth University's annual international week celebrations with a feast of traditional Malaysian food, music and dance at Aberystwyth Arts Centre on Saturday 4 March.
'Jiwa: The Soul of Malaysia' marks the beginning of One World Week which is organised by the University's International Office with the support of Aberystwyth Students' Union and runs until Friday 10 March 2017.
The week's programme, which is available online, features a gala evening of performances from across the world on Monday 6 March, a special screening of the feature film 'Dry', a Big International Quiz on Wednesday 8 March, and a World Food Fair on Thursday 9 March.
Premiered at Aberystwyth Arts Centre in 2014, 'Dry' was filmed in Aberystwyth and Nigeria and features Nollywood star Stephanie Linus.
The week's programme culminates with a round table debate at the Department of International Politics on refugees and asylum seekers, experiences and perceptions on Thursday 9 March.
There will also be an opportunity to taste traditional dishes from Korea, Poland, Turkey, Spain and Africa at the award winning TaMed Da restaurant on the Penglais Campus from Monday 6 until Friday 10 March.
Students are also being invited to take part in a One World Week photographic competition, and send in photographs showing their involvement in One World Week, behind the scenes preparations, and what the week means to them.
Emir Mohamad Fauzi, International Officer at Aberystwyth Students' Union said: "One World Week has been one of my favourite weeks through-out the whole year in Aber because it gives opportunities for all international and home students to come together to showcase their culture and allows international students to feel at home. It is so important for me because I can only experience how diverse Aberystwyth is on One World Week."
Hazim Jasman, BME Officer at Aberystwyth Students' Union said: "In Aberystwyth University we are building a community where diversity and differences are promoted and celebrated. Through One World Week, we can show how this unity in diversity enables people from different cultures to live together and build common ground. It is a celebration of diversity, cultures and faith on campus. This event fits throughout the society no matter if you are an international or home students. It is the opportunity to celebrate the mixture of culture and learn to build a diverse and inclusive society where we can accept differences which make the community great."
Rosa Soto, International Student Advisor at the University's International Office said: "Aberystwyth University is a vibrant community of students from 119 different nationalities and we are deeply proud of our global and inclusive community; we recognise the financial and cultural benefits that international students bring to the university and the local community, and know the value of studying and working alongside each other for all our international and home students as well as staff.
"One World Week is the final product of many weeks of international and home students coming together to plan activities, whereby they meet students from different cultures, make new global friendships, and more. It is always a pleasure, and a lot fun working with students on One World Week. Their energy and enthusiasm is fantastic and I hope that as many students, staff and members of the community come along to the events organised during the week to celebrate our diverse global community", Rosa added.
Further information about One World Week is available online and via the Aberystwyth One World Week 2017 Facebook Page.
Members of the Aberystwyth Malaysian Society have produced a promotional video for their Malaysian evening on Saturday 4 March.  Tickets are available online from Aberystwyth Arts Centre and priced at £10 (early bird), £12 (standard) and £15 (VIP).