Old Students' Association celebrates 125 years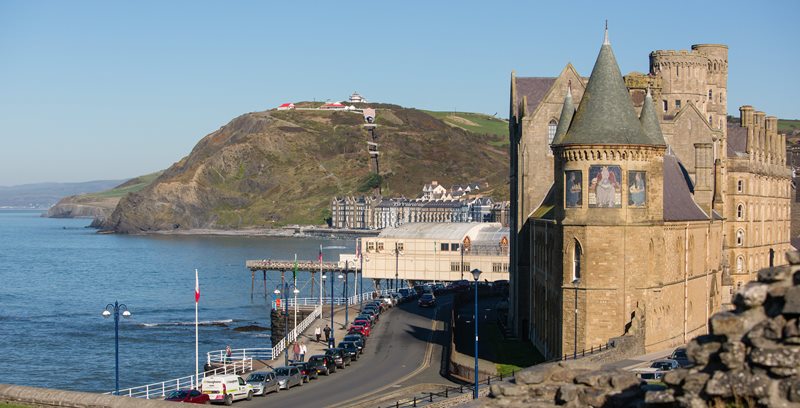 The Old College, Aberystwyth University
The 125th anniversary of Aberystwyth University's Old Students' Association (OSA) will be marked at the Annual St David's Day dinner held in London's Guildhall today (Tuesday 28 February 2017).
Organised annually by Wales in London to celebrate Welsh life in the UK capital, the University's presence at the gala dinner is a timely opportunity to celebrate the OSA's landmark birthday.
In a further link with Aberystwyth University, University Council member Anne Davies is President of this year's St David's Day dinner.
Founded on 2 March 1892, Aberystwyth University's OSA is one of the oldest alumni associations of its kind in the world and now has over 9,000 members across the globe.
As well as celebrating the historical achievements of the OSA, the gala dinner provides an opportunity to look to the future by focusing on the exciting plans for Aberystwyth Innovation and Enterprise Campus (AIEC).
The £40.5M project will provide world leading facilities and expertise for the agri-tech industry and the bio-science sector, and is funded by the European Regional Development Fund, through the Welsh Government; by the Biotechnology and Biological Sciences Research Council (BBSRC) and by Aberystwyth University.
Speaking in his role as current President of the OSA, Stephen Lawrence said: "One of the claims to fame of the Aberystwyth Old Students' Association is that it has an unbroken history of annual meetings going back to the year it was founded. Not a meeting was missed even during the two world wars and that's a pretty impressive achievement. It's apt that we kick off the celebrations in London as it was leading London Welshman Sir Hugh Owen who led the campaign to establish the University 150 years ago.
"Our 125th anniversary is a chance to celebrate the affection we all feel for this historic and much loved University by the sea. As former students and staff scattered across more than 150 different countries, we owe a debt of gratitude to Aber and we want to give something back. We do that by acting as willing ambassadors for the University, by providing bursaries and scholarships, and by offering a supportive network for other Aber graduates. The golden threads from the first meeting back in 1892 to this day are, without doubt, fellowship and service."
Other events where the 125th anniversary will be celebrated include:
3 June 2017: OSA Llandovery Lecture given by Baroness Kay Andrews, OBE and Honorary Fellow of Aberystwyth University
25 July 2017: Royal Welsh Reception
9 August 2017: National Eisteddfod of Wales Reunion
18-20 August 2017: OSA Annual Reunion
Director of Development and Alumni Relations at Aberystwyth University, Louise Jagger, said: "Members of the OSA make an immense contribution to the success of the University and in congratulating them on their 125th anniversary, I would also like to take the opportunity to thank them for their valuable support over the years. As we look back on the association's history, we also look forward to working with them in the future as we develop our plans for Old College and other exciting projects."
Membership of the OSA is open to all former students and staff of Aberystwyth University. For more information, take a look at the association's website osaannual.wordpress.com.
Aberystwyth Innovation and Enterprise Campus (AIEC) will provide a progressive environment to encourage business and academic collaboration to flourish by offering a range of high quality facilities to support the translation of research and innovation, enabling commercial enterprises to grow, prosper and drive economic growth in the region and beyond.