New seating for Arts Centre Cinema
03 March 2017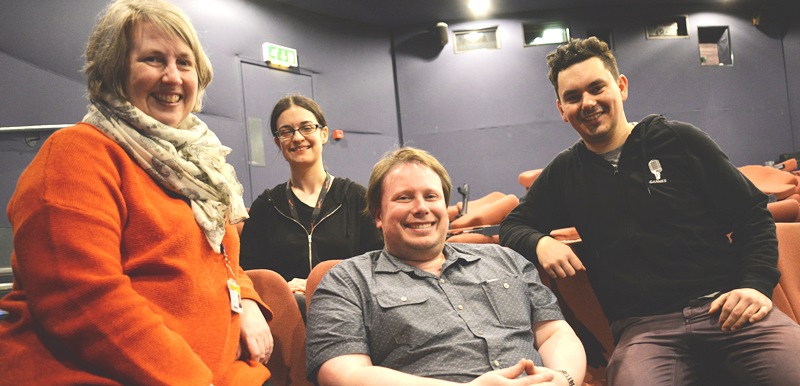 Left to right: Interim Aberystwyth Arts Centre Director Louise Amery, Cinema Projectionist and Technician Nia Edwards-Behi, Cinema Manager Gareth Bailey and Projectionist Przemyslaw Sobkowicz.
Film aficionados who enjoy the popular and varied programme offered by the Aberystwyth Arts Centre cinema will soon be able to enjoy screenings in even greater comfort.
The cinema, which opened in 2000 as part of a major expansion of Aberystwyth Arts Centre, is closed for a week whilst it is being refurbished with new and larger seats.
It is set to open again on Wednesday 8 March with a special screening of the 1980s classic Ghostbusters, a favourite film of the much loved former projectionist Paul Davis who passed away in 2014. The new refurbishment is dedicated to his memory.
Work to remove the old seating, which has served audiences well for over 16 years, started on Wednesday 1 March with the best of the old seats offered free to members of the public.
Once completed, the newly refurbished cinema will provide extremely comfortable seating for 112 and feature double seats in the back row for parents with young children or the more romantically inclined.
There will also be improved disabled access and for the first time it will be possible to book specific seats in advance. Ticket prices will also remain the same.
Interim Director at Aberystwyth Arts Centre, Louise Amery said: "We are delighted that our plans to refurbish the cinema are taking shape. The cinema is run by a small enthusiastic team, Gareth Bailey Cinema Manager and projectionist Nia Edwards-Behi, who are committed to providing a varied, interesting and entertaining programme that appeals to everyone. It was their wish to dedicate the cinema to Paul, who we all miss terribly."
On Thursday 9 March the cinema will show a modern production of Ibsen's master piece Hedda Gabler in the latest in its series of highly popular NT Live screenings.
Other March screenings include Sing, featuring former Aberystwyth Arts Centre youth theatre and stage school member and star of Eddie The Eagle Taron Egerton, and Don't Take Me Home, which follows the success of the Wales football team at Euro 2016.
The last week of March sees the cinema host the Wales One World Film Festival, which brings the very best of world cinema to Aberystwyth on a journey that takes in Nepal, Thailand, Chile, Colombia, Mali and Palestine.
The cinema is part of the award winning Aberystwyth Arts Centre, Wales' largest arts centre which is recognised as a 'national flagship for the arts'.
The Arts Centre is part of the Aberystwyth University's Institute of Arts and Humanities and is recognised and supported as a regional Arts Centre by the Arts Council of Wales.
It offers a wide-ranging artistic programme, both producing and presenting, across all art forms including drama, dance, music, visual arts, applied arts, film, new media, and community arts and is recognised as a national centre for arts development.
Contacts
Louise Amery
Interim Director
Aberystwyth Arts Centre
Aberystwyth University
01970 622889 / lla@abr.ac.uk
Arthur Dafis
Communications and Public Affairs
Aberystwyth University
01970 621763 / 07841 979452 / aid@aber.ac.uk