Art Exhibition: Cutting Edge: The British Print from Hayter to Hockney 1960 to 1980
06 March 2017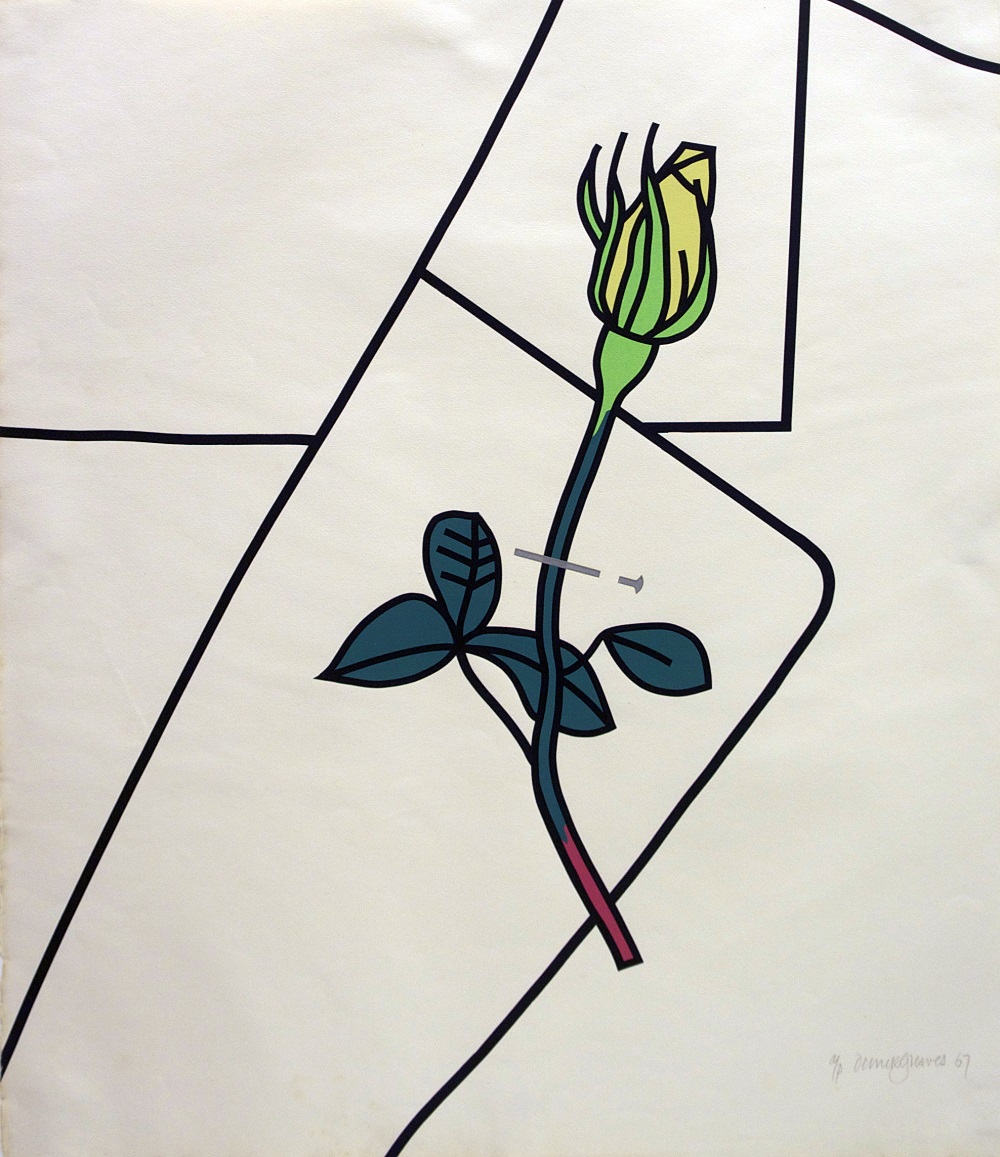 Derrick Greaves, 'Lapel', screenprint, 1967
An exhibition which surveys the cutting edge of British printmaking from the 1960s to the early 1980s opens at Aberystwyth University School of Art Gallery today.
The exhibition includes work by Stanley William Hayter, Jeffrey Steele, Prunella Clough, Derrick Greaves, William Scott, John Piper and David Hockney.
The works have been mainly selected from the Aberystwyth University School of Art Collection, which benefitted from a gift of prints from the Arts Council of Wales in 2002.
Colin Cruise, Professor of Art History at the School of Art, explains the background to the exhibition: "In the 1960s, British artists broke away from traditional making techniques, not only in painting and sculpture but also in printmaking.
"Printmaking had enjoyed a revival in the first decades of the twentieth century with an emphasis on etching that required highly accomplished figure or landscape drawing as well as expertise in the craft elements of printmaking.
"In the 1960s British artists began to use screen-printing which suited both hard-edged Abstractionist and Pop Art imagery, inspired by the example of American artists working in New York earlier in the decade.
"Op Art, with its use of stripes and dots, also gained much from the clean-cut, industrial nature of silkscreen printing.
"At the same time, new experiments in lithography and combinations of techniques, often employing photographs and collage, meant that British printmaking became a vibrant and exciting form.
"This exhibition brings in works that represent the very cutting edge of British printmaking from the sixties to the early eighties."
Cutting Edge: The British Print from Hayter to Hockney 1960 to 1980is on view at the School of Art Gallery, Buarth Mawr, Aberystwyth from 6 March until 12 May 2017. The Gallery is open Monday to Friday, 10:00 to 17:00, closing for Easter from 14-18 April. Admission is free.
AU8417
Contacts
Alice Earp, Communications and Public Affairs, Aberystwyth University
01970 622578 / ale@aber.ac.uk