Art Exhibition: From the Life Room: Art School figure drawings and studies since 1800
07 March 2017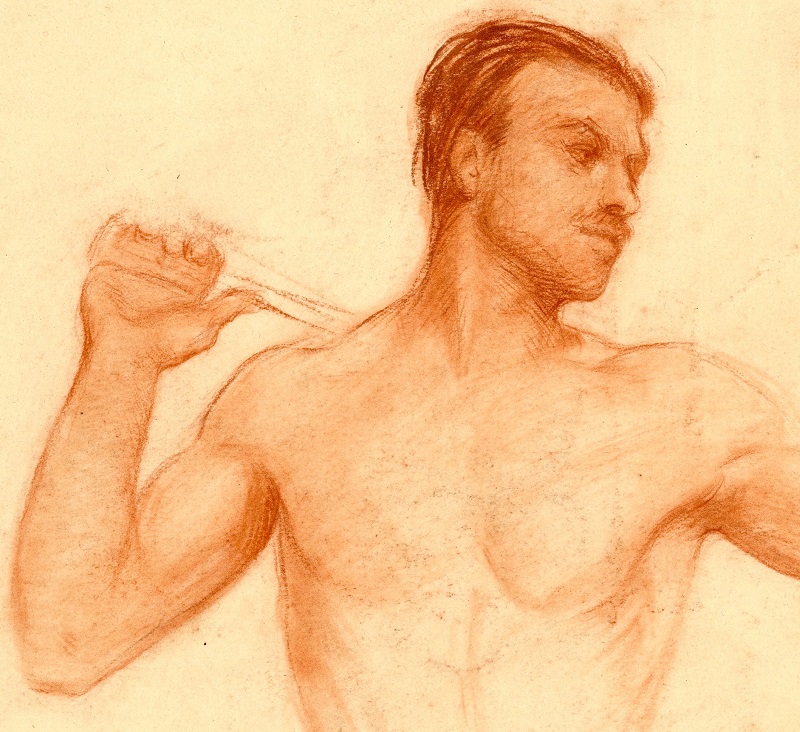 Hugh Blaker, life drawing, early 20th century (undated), red crayon on paper
An exhibition of drawings and paintings which offers an insight into drawing practices in British art schools over the last two hundred years opened at Aberystwyth University School of Art Gallery this week.
Professor Robert Meyrick, Head of the School of Art and Keeper of Art, explains the thinking behind the exhibition: "Drawing the figure is arguably the ultimate test of a student's powers of hand-eye coordination, manual dexterity and expression.
"For centuries, drawing the human form in the life room was regarded essential to an artist's professional training. Life drawing classes continue to play an important role in the instruction of artists at Aberystwyth.
"This exhibition of drawings and paintings taken largely from the School of Art Museum collection includes works by a number of renowned artists of the figure and human form, along with Aberystwyth alumni."
The exhibition includes work by Hugh Blaker, George Chapman, John Elwyn, William Etty, Evelyn Gibbs, John Minton, Keith Vaughan and Christopher Williams.
The works will be shown alongside life room props and teaching aids: plaster casts of the antique statuary, a skeleton, anatomy manuals and mannequins.
From the Life Room: Art School figure drawings and studies since 1800 is on view at the School of Art Gallery, Buarth Mawr, Aberystwyth from 6 March until 12 May 2017. The Gallery is open Monday to Friday, 10:00 to 17:00, closing for Easter from 14-18 April. Admission is free.
AU8617
Contacts
Alice Earp, Communications and Public Affairs, Aberystwyth University
01970 622578 / ale@aber.ac.uk