Aber students recall Afghan kayaking adventure
07 March 2017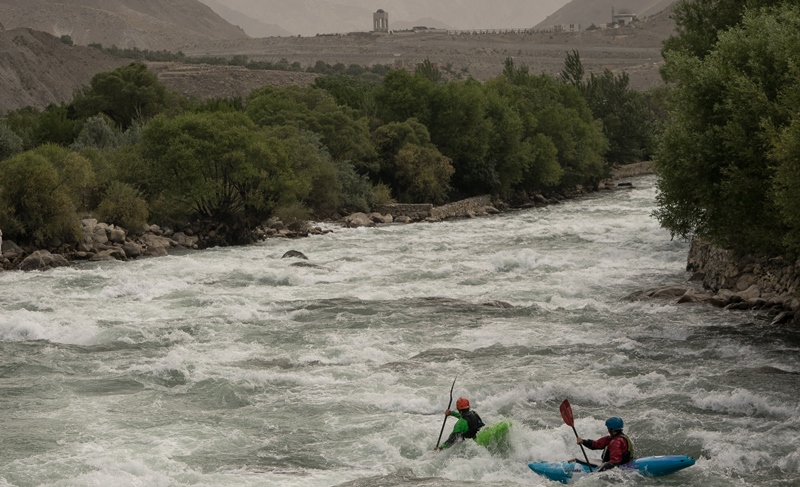 Aberystwyth alumni kayaking along the Panjshir river in Afghanistan. Image: Kristof Stursa
Two former students return to Aberystwyth on 8 March 2017 to relive their kayaking adventures in a country better known as a war zone than a white water destination.
Alumni James Smith and Joe Rea-Dickins spent ten days paddling down the Panjshir river in northern Afghanistan with fellow kayakers Callum Scott and Kristof Stursa.
The group of four are now taking tales of their travels on tour around the UK and Ireland, with a special event in the Seddon Room of Aberystwyth University's Old College at 7pm on Wednesday 8 March 2017.
James Smith, who studied Marketing & German in Aberystwyth from 2008-2012, said a return visit to the University was a must.
"I had an excellent time at Aber and have very many fond memories of my time here. One of the main reasons I chose the university was because it had one of the best canoe clubs in the UK. The course was smashing of course but the club became a big part of university life for me and it's great to see it's still going strong," said James, who was President of the AU Canoe Club 2009-10.
"Our trip to Afghanistan came about as a result of another trip we made while still at university to Pakistan. It made us realise that you can still visit these places and have a good time. We had escorts with us the entire trip and didn't feel in danger at any time. In fact, we were made to feel incredibly welcome. We're now planning to set up a kayaking expedition business in India so my marketing degree will come in handy."
On their journey down the length of the Panjshir river through the mountains of the Hindu Kush, the four friends also set up a kayaking workshop to teach interested locals.
They filmed their journey and are using the footage to illustrate the stories of their Afghan adventure to audiences across the UK and Ireland.
Louise Jagger, Director of Development & Alumni Relations at Aberystwyth University, said: "Aberystwyth students are known for their spirt of adventure. In the 1960s, for example, the Exploration Society travelled to Afghanistan, they crossed the Sahara Dessert and they drove through the Trucial States in the Middle East. It's great to see that this tradition is alive and well today.
"As a University, we are always keen to hear about the different paths our students have followed since graduating so we're very pleased that James and Joe are bringing their roadshow to Old College - the perfect seafront location for an event celebrating the achievements of past members of Aberystwyth's Canoe Club."
Tickets for the Aberystwyth event on 8 March are available from any Aberystwyth University Canoe Club Committee members or online at www.ticketsource.co.uk/date/GGLLHG.
Contacts
Esther Prytherch
Communications and Public Affairs
Aberystwyth University
01970 622365 | ejp14@aber.ac.uk