Strong local interest in Open Day to promote health and well-being research in Ceredigion
20 March 2017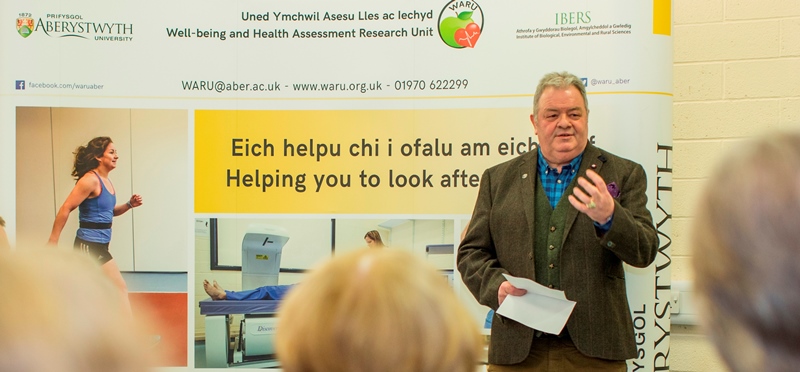 Paul James, who recently underwent major heart surgery, speaking at the launch of the Well-being and Health Assessment Research Unit (WARU) at which was launched at Aberystwyth University on Wednesday 15 March.
Aberystwyth University's launch of a brand new Well-being and Health Assessment Research Unit (WARU) was well attended with nearly 200 local people at the Open Day on Wednesday the 15th of March.
The unit is located on Aberystwyth University's Penglais Campus in the Carwyn James building and research undertaken by scientists there will promote health and well-being in the community, aiming to help to reduce the burden of chronic disease and hospital admissions.
Dr Rhys Thatcher is a sport and exercise specialist at Aberystwyth University's Institute of Biological, Environmental and Rural Sciences.
"We were delighted to see so many members of the community participating in the Open Day, many of whom showed an interest in taking part in our latest research projects", said Dr Thatcher.
"At WARU we aim to conduct research that will inform and support people in mid-Wales enabling them to live healthier lifestyles and empowering them to help themselves."
Mr Paul James from Llanbadarn spoke during the launch about his experience of being advised by sports and exercise specialists at IBERS in 2015 when training as one of the Fire Ride team to raise money for charity.
At that time he was unaware of a serious heart condition and has recently undergone major heart surgery and is now recovering and his rehabilitation includes exercising at Aberystwyth University's Sports Centre.
Paul said: "I was pleased to be able to share my story at the launch of WARU and believe that a unit like this may have helped me to identify my health issues sooner and will be a great asset to Ceredigion, and mid-Wales. "
The Open Day offered a range of free on the day health and well-being assessments and demonstrations including dietary analysis, lung function and body composition, physical activity and physical capability measurement, 'smart', digitally-linked technology to reinforce healthy behaviour and the role of exercise in lowering the risk of developing or worsening of chronic conditions such as diabetes, stroke and Parkinson's.
Also featured were a series of talks on a wide range of subjects covering strokes, frailty, diabetes and coping with stress for students.
WARU will also be running a series of regular health MOT opportunities, commencing with the over 60s MOT on March 22nd, an event that has been successfully run by IBERS Dr Marco Arkesteijn and David Langford, working with Age Cymru in the Carwyn James building over the last 3 years.
Contacts
Dawn Havard
IBERS Communications
Aberystwyth University
01970 628440 / dbh@aber.ac.uk
Arthur Dafis
Communications and Public Affairs
Aberystwyth University
01970 621763 / 07841979452 / aid@aber.ac.uk