New module to enhance Employability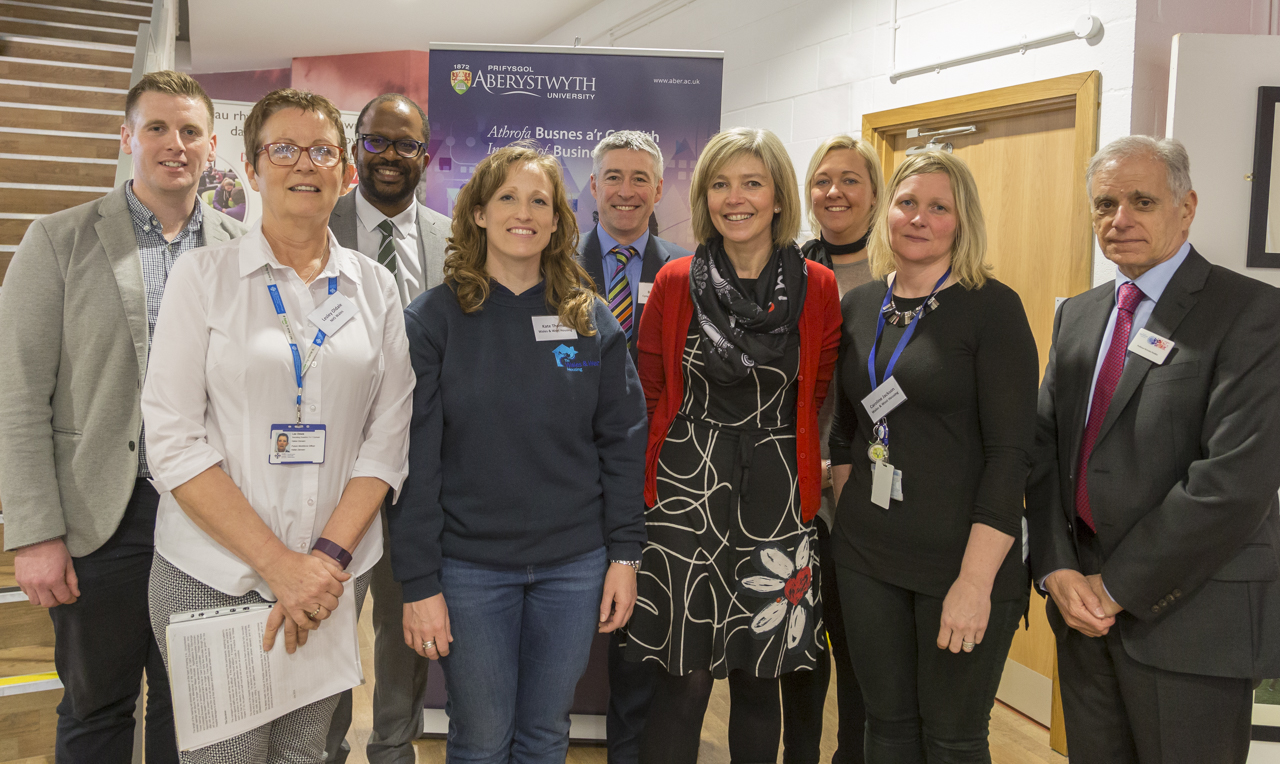 Front row, left to right: Mrs Lesley Oldale (NHS Wales), Kate Thomas (Wales & West Housing), Professor Jo Crotty (Aberystwyth University), Caroline Jackson (Wales & West Housing) and Professor Nicholas Perdikis (Aberystwyth University) Back row, left to right: Rob Bowen (Aberystwyth University), Dr Ola Olusanya (Aberystwyth University), Barry Rees (Ceredigion County Council) and Carly Hodson (Wales & West Housing)
A new module to enhance student employability has been launched by the Institute of Business and Law (IBL) at Aberystwyth University.
The accredited Employability Skills for Professionals module will provide structured work placements for third year Business and Law students during term time.
Professor Jo Crotty, Institute Director for Business and Law said "I am very excited that we are bringing together so many local employers to give students the opportunity to gain practical work experience as part of their degree. This is unique amongst business and law programmes in Wales and with such a great support from both students and staff it is sure to be a great success."
Dr Olaoluwa Olusanya, module leader and Senior Lecturer at Aberystwyth Law School, said "The Employability Skills module is a great opportunity for our final year Business and Law students to get a real insight into the workplace and engage in real pieces of work or projects. Employers place great emphasis on practical experience and this module will add value to our students' skills profile, supplementing those developed during their degree programme and through extra-curricular activities."
Robert Bowen, Lecturer and module coordinator at Aberystwyth Business School, added: "Providing quality placement opportunities for our students increases their knowledge of an industry or sector, allowing them to make better informed decisions about future career choices. It also forms an important part of building constructive relationships between the University and local and regional organisations."
As part of the launch event guest speaker Simon Millership of private equity firm Opcapita gave an insight into the world of financial services and offered some tips to student seeking to follow a career in this area. Simon said "I am really happy to come from the City to support the launch of such an important initiative. It's a competitive world out there, and students need every edge they can to ensure they get the career they want."
The Institute of Business and Law is working in partnership with several local, commercial, government, and charity organisations to offer a range of high-quality professional work placements to students.
​As one of the main employers in Aberystwyth, Ceredigion County Council will offer up to 18 placements across the whole of the council and in various different work areas.
Elen James, Ceredigion County Council Head of Youth Engagement and Continuing Education said: "We are delighted to be working closely with Aberystwyth University and are proud to offer these opportunities to students. We believe that we as a Council can benefit from their knowledge and we hope they will benefit from our experience."
Leading social housing providers in Wales, Wales & West Housing, has been working with the University to develop the module.
Louise Webster of Wales & West Housing, said: "We are proud to be part of the launch of the Employability Skills for Professionals. Working in partnership with Aberystwyth University, we piloted a client-based multi-disciplinary clinical legal education module. This module has enabled students to gain an insight and understanding of social and supported housing through exposure to real-life case studies and shadowing a variety of professionals in the field. It has proved to be a huge success, making a positive difference to the students."
The new module on Employability Skills is part of a wide range of programmes, projects and support offered by Aberystwyth University to develop the employability skills of students. The pioneering initiative, AberForward programme combines full-time paid work experience within an academic or professional service department with professional development workshops and individual support.
Details of the 2017 AberForwardSummer Scheme availablehere.

AU13017