Aberystwyth glaciologist set to drill through the world's highest glacier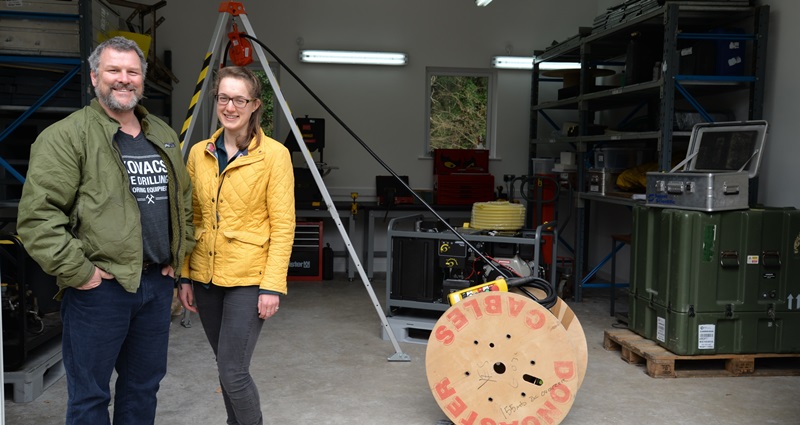 Professor Bryn Hubbard, Director of the Centre for Glaciology at Aberystwyth University and PhD student Katie Miles who will be working on Khumbu glacier.
Climate change scientists from Aberystwyth University are heading to the Himalayas in a bid to become the first to successfully drill through the world's highest glacier.
Polar Medal holder Professor Bryn Hubbard and colleagues from the Aberystwyth Centre for Glaciology will travel to the Khumbu glacier in the foothills of Mount Everest in April 2017.
They will spend up to six weeks working on the 17km-long glacier which flows from an altitude of 7600 meters to around 4900 metres at its lowest.
Located in north-eastern Nepal, the Khumbu is often used by climbers on their way to Everest base-camp.
Working at over 5000m, Professor Hubbard's team will use a specially adapted car wash unit to drill up to 200 metres into the ice.
Once the drilling has been completed, the team will be able to study the internal structure of the glacier, measure its temperature, how quickly it flows and how water drains through it.
The data collected will be combined with satellite images to understand how the glacier moves and changes over time, and how it might respond to anticipated climate change.
Situated in a region notorious for its seismic activity and prone to large earthquakes, the Khumbu and surrounding area are the source of water for around 40% of the world's population.
However, dams and lakes that form on the glacier present significant risk of flash flooding for people living down-stream.
"This is the first time that anyone has attempted to drill the Khumbu glacier" said Professor Hubbard. "Working in the field is challenging at best, but this mission presents some particular challenges. We don't know how well our equipment will perform at altitude, let alone how we will be able to contend with the thin air."
"Understanding what actually happens inside these glaciers is critical to developing computer models of their response to anticipated climate change. Equally important is developing a better understanding of how they flow so that we can better predict when dams that form on these glaciers are likely to be breached, releasing vast volumes of water to the valleys below. This is a real risk in the Himalayas as it is in other regions such as the Andes, and has the potential to endanger the lives of thousands of people," he added.
Professor Hubbard is working on the study with researchers from two other universities who also have close connections to Aberystwyth.
Dr Duncan Quincey from Leeds University is a former PhD student and member of staff at Aberystwyth University and is overseeing the remote sensing (satellite imagery) aspect of the project. He will join Bryn in the field.
A Research Fellow at Sheffield University, Dr Ann Rowan studied Glaciology at Aberystwyth University and is responsible for developing computer models of the glacier's response to climate change.
Also working with Bryn during the study will be Postdoctoral Researcher Evan Miles and Aberystwyth University PhD student Katie Miles.
The work is funded by the Natural Environment Research Council, NERC.
Technical challenge
Professor Hubbard and colleagues will be working at an altitude of over 5000m and will have to contend with a number of physical and technical challenges.
Equipment weighing approximately 1500kg will need to be lifted onto the glacier.
Half the equipment will be air-lifted by helicopter and half will be carried up by locally hired Sherpa, yaks and the research team.
Professor Hubbard and colleagues regularly use helicopters to transport equipment to remote and inaccessible areas during field studies.
At sea level, helicopters used by the team would typically be able to lift over a tonne at a time. For altitude reasons, the payload for this expedition is expected to be under 200 kg per trip.
Drilling will be done with a specially adapted car wash unit that produces a jet of hot water at a pressure of up to 120 bar, enough to penetrate rough tarmacadam.
The drill will be powered by three Honda generators whose power output is expected to be compromised by up to 50% due to the lack of oxygen at altitude.
Water from surface ponds on the glacier will be filtered and then heated to ~40oC for drilling purposes.
Whilst their equipment is air lifted, Bryn and colleagues will undertake an eight-day trek from Lukla airport as they acclimatise to their high-altitude surroundings.
Professor Bryn Hubbard
Professor Bryn Hubbard was awarded the Polar Medal in January 2016 for his work as a "Polar scholar in glaciology, glacial geology and the structure and motion of ice masses".
The 2017 Himalaya study will be his 29th consecutive year to include a period of glaciological fieldwork.
Since 1988 Professor Hubbard has worked in Antarctica on six occasions, studied high altitude glacier movement in the Peruvian Andes on three occasions, worked in Greenland on five occasions and on Svalbard eight times, as well as Canadian Arctic and Norway. Before researching at the world's more exotic ice masses, he carried out fieldwork in the European Alps, leading or participating in field camps on perhaps 20 occasions.
His forthcoming visit to the Khumbu glacier will be the first of two, as the team is set to return for a second stint of 9 weeks in 2018. This will be followed almost immediately by a 9 weeks filed trip to Greenland to study the fast moving Store Glacier.