Apply now for Aberystwyth's Summer University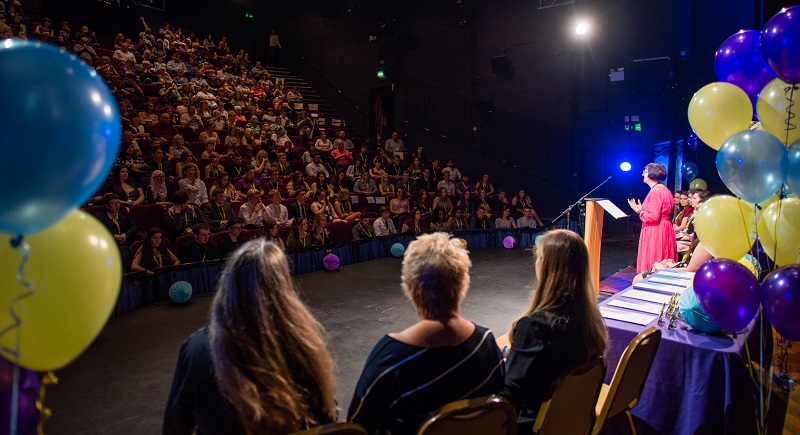 Students who attended Aberystwyth's Summer University 2016 at their 'Graduation ceremony'.
The deadline is looming for applications to Aberystwyth University's flagship six-week residential Summer University, which offers a taste of university life to would-be students.
Anyone wanting to apply for this year's Summer University, which takes place from 17 July - 25 August, needs to submit their application before 28 April 2017.
The Summer University provides an opportunity for young people from all over Wales to immerse themselves in the experience of university, study academic subjects of their choice, and enjoy a programme of sports and social activities.
Applications are invited from young people who are currently studying towards A-levels or NVQ Level 3. Places are limited and priority will be given to applications from students who satisfy the main Welsh Government priorities.
Priority for places goes to students who live or go to school / college in a Welsh Communities First area, or are from a care / care leaver background.
Special consideration is also given to young people who:
are the first from their family to go to university
have a disability or long-term illness
are from an under-represented ethnic group
want to study a subject where one gender is under-represented
have had a traumatic event which has affected their education
The six-week programme of lectures, research and presentations allows students to gain a grounding in key skills such as academic researching, writing, and presenting; study academic modules from a wide range of subjects from Chemistry to Creative Writing, from Physics to Philosophy; and partake in a full programme of sports and social activities.
All students who successfully complete the Aberystwyth Summer University will be offered a guaranteed progression route to an appropriate scheme at Aberystwyth University on condition that 2 A-Levels (or equivalent) are passed and any specific requirements are met.
Dr Debra Croft, Manager of Aberystwyth University's Centre for Widening Participation, Equality and Social Inclusion which organises the Summer University says:
"The strength of the Summer University is that it mirrors university life as realistically as possible. The students have a full six weeks in which to immerse themselves in university life, adjusting to being away from home, to the combined pressures of academic work and deadlines, sports and activities.
"The support we offer to these young people doesn't stop when they complete the Summer University. We continue to keep in touch with students, assisting them with personal statements, references, support, advice and guidance of all kinds.
"Looking at students who have completed the Aberystwyth Summer University since 2012, around 85% have successfully gone on to Higher Education."
Amelia Sellers completed the Summer University in 2013 and is now in her final year of a Fine Art degree at Aberystwyth University:
"I had such an amazing experience doing the Summer University. It is an absolutely incredible programme and makes such a difference to people's lives. I grew in confidence and changed so much as a person through doing the Summer University."