Aberystwyth University in Whatuni's Top Ten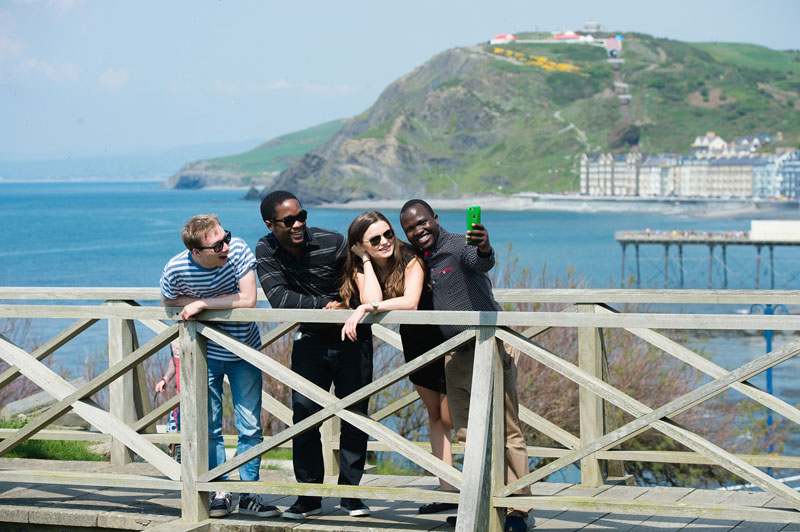 Aberystwyth University was voted a top ten university in the 2017 Whatuni Student Choice Awards.
Aberystwyth University has been voted one of the top ten universities in the UK in the 2017 Whatuni Student Choice Awards.
The University was ranked eighth in the University of the Year category and also picked up a Silver Award for best International University at the annual awards ceremony held in London 5 April 2017.
The Whatuni Student Rankings are based on averages taken from more than 27,000 reviews submitted by students at 127 UK universities.
They cover Accommodation, City Life, Clubs & Societies, Courses & Lecturers, Job Prospects, Student Union, Uni Facilities, Support Services, Overall rating 'University of the Year', and International.
Aberystwyth was shortlisted in a total of five categories - Best University, Accommodation, Courses & Lecturers, International and Postgraduate.
Aberystwyth University students have submitted more than 900 reviews on the whatuni.com website. Here are just some of their comments submitted to the 2017 Whatuni Student Choice Awards:
"University has been the best experience of my life. It has allowed me to meet new people and travel to new places like my year abroad in America and the culture of socialising stands out as a key difference with other unis and created the person I am today" - Anastasis Knight, Human Geography BA (Hons)
"My uni experience so far has been amazing. The university is the perfect size and the town offers amazing night life and social activities. I have loved every second of being at university so far and cannot wait for what the future holds for me at Aberystwyth University. Best decision I have ever made." Hannah Poole, Biology BSc (Hons)
"It has been the best decision I've made. The minute I've arrived I've made new friends from my accommodation and my course. Everyone has helped each other to settle in and ensured we are there for each other. I've made new experiences and memories and hopefully will make many more. The reason I chose Aberystwyth is the community life and the course looked really interesting. I'm looking forward for the next two years and hopefully will study my Masters here." Angharad Mair, Criminology BSc (Hons)
"Really enjoying myself, very glad I made the decision to come here. I have learned more than knowledge, I have learned life skills & met great people / got involved in things I wouldn't normally have done so" – Richard Haskell, Ecology BSc (Hons)
Professor John Grattan, Pro Vice-Chancellor for International and Student Experience at Aberystwyth University, said: "We are delighted that reviews written by the students who learn and live here in Aberystwyth have placed us in Whatuni's top ten universities across the whole of the UK. Students are at the heart of everything we do here and we work hard to make sure they get the best all-round experience possible. That means high quality, research-led teaching, excellent facilities and support services, and proper preparation for their careers after graduating.
"Our Silver Award in the International category is also a real accolade, especially as we know that it's based on what international students think. We value our global community here in Aberystwyth and have been welcoming foreign students since we were established back in the 19th century."
Marcella Collins, Managing Director UK, of Whatuni.com parent company Hotcourses Group, said: "One of the most common criticisms we hear from students is that it's too difficult to navigate the HE landscape, so this has become our driving force. We present critical data to students in a way that's easy for them to understand and helps them make life-changing educational choices."
In the 2016 National Student Survey, which is based on the opinions of final-year undergraduates, Aberystwyth University was ranked top in Wales and one of the four best broad-cased universities in the UK for overall satisfaction.
Aberystwyth was also top in Wales for student experience and teaching excellence in The Times and Sunday Times Good University Guide 2017.