Aberystwyth Cycle Festival returns for its eighth year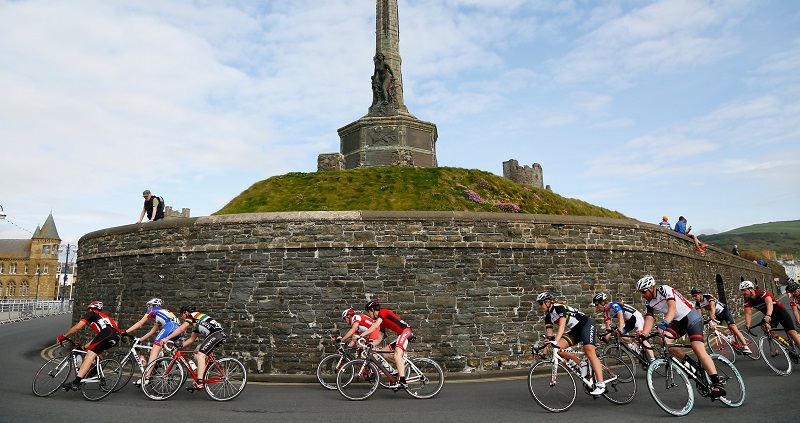 Aberystwyth's annual cycling festival returns this week, 21 – 30 May 2017, with ten days of cycling events in and around Aberystwyth.
Now in its eighth year, Aberystwyth Cycle Festival is a celebration of all things cycling and is supported by Aberystwyth University.
Events include town centre criterium racing, downhill mountain biking, a hill climb competition, pub bike racing, and a gala evening at Aberystwyth Arts Centre Theatre with a special showing of the award-winning James Newton film Janapar, Love on a Bike.
The festival culminates on Sunday 28 May with the Welsh Wild West Sportive which offers cyclists of all ages and abilities an opportunity to ride some of the most picturesque roads in Wales.
One of the highlights of the week will be the Storck Women's Grand Prix and Ceredigion Grand Prix criterium On Friday 26 May.
Based around the University's iconic Old College, the ruins of Aberystwyth 13th century castle and the town's Victorian pier, roads will be closed for the racing during the day and evening.
Before the professionals take to the track, cyclists from as young as 8 years old will have their chance to race.
Starting at 1.30pm, twelve schools races, a Town Vs Gown Fancy Dress Challenge for local adults and students, 'GoRace' for first-time senior racers, and the Continental Cup Seafront criteriums for aspiring amateurs feature on the programme.
The downhill mountain bike racing event, 'Conquer the Cliff', take place on Saturday 27 May on Constitution Hill, along with a Hill Climb which will scale the 200 metre, 25% gradient, Cefn Llan hill out of Llanbadarn.
The Welsh Wild West Sportive takes the action out of town and into the Ceredigion countryside, with four routes of different distances 28, 45, 62 or 106 miles for riders to choose from.
Jeff Saycell, Sports Centre Facilities Manager at Aberystwyth University said:
"We are delighted that AberCyclefest has returned to Aberystwyth for its eighth consecutive year and its partnership with the University continues. I am particularly looking forward to the Town vs Gown Fancy Dress Challenge at 4.30pm on Friday 26 May, which is a chance for anyone with a bike to jump on and have a go.  The race is only 20 minutes long and not too demanding on the legs, so I hope to see lots of staff and students from the University sign up. There is a fancy dress award, so don't be shy in sporting some outrageous clothing for the occasion."
More information on the festival can be found here: http://www.abercyclefest.com/
AU19217