Welsh literary magazine Y Ddraig published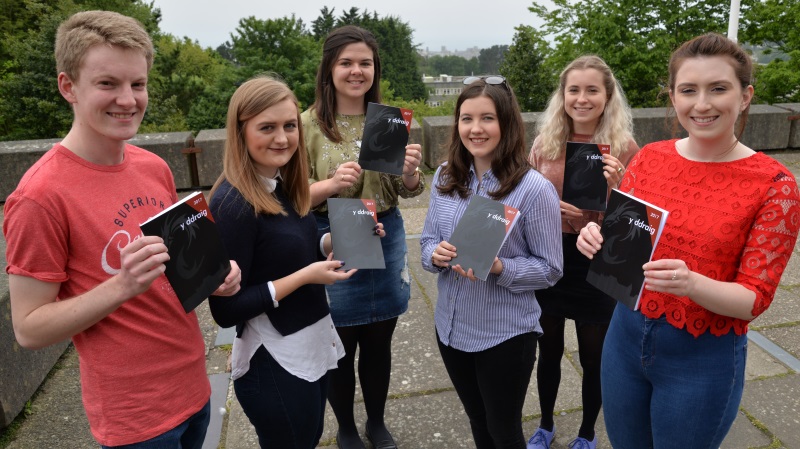 Left to right: Members of the editorial board of Y Ddraig 2017; Ianto Jones, Ela Wyn James, Manon Wyn Rowlands, Carys Haf James, Martha Grug Ifan and Cadi Grug Lake
The latest issue of the literary magazine of the Department of Welsh and Celtic Studies at Aberystwyth University has been published.
Y Ddraig (The Dragon) was launched by Carwyn Eckley 2017, winner of the chair at the 2017 Inter-Collegiate Eisteddfod, at a special event at Y Llew Du in Aberystwyth on 24 May 2017.
His winning poem on the topic 'The Hero' appears at the beginning of the magazine.
Y Ddraig is edited by students on the innovative Professional Welsh degree at Aberystwyth University.
It features a variety of short stories, poems and interviews that have been composed by students and staff of the University, as well as some residents of Aberystwyth.
Under the direction of Dr Rhianedd Jewell, coordinator of the Professional Welsh degree, students gain valuable experience of the publishing industry in formulating and publishing the book.
"As an editorial board, students on the Professional Welsh degree are responsible for commissioning all items and editing the magazine", she said.
This edition includes interviews with poets Ceri Wyn Jones and Sion Pennar, the author Caryl Lewis and the playwright Hefin Robinson.
In addition there is poetry and prose by several students of the Department of Welsh and Celtic Studies.
Speaking at the launch, Carwyn Eckley said: "I congratulate the committee this year pulling together Y Ddraig for 2017. It is quite an achievement, and I remember when I and my fellow students were in their shoes in our year first. Waiting for material to come to hand can be a daunting experience, and adapting and editing the material is a challenge in itself. The students will have gained immensely as a result of this experience."
At the launch there were readings by some of the contributors to the latest edition, including Eurig Salisbury, Iestyn Tyne and Carwyn itself.
Ianto Jones and Cadi Grug Lake are members of the Editorial Board.
"Producing the 2017 edition of Y Ddraig magazine has been a great pleasure", said Ianto.
"Creating Y Ddraig has been a completely new experience, and it's a privilege to finally have a copy in my hand", said Cadi.
Copies of Y Ddraig can be purchased by contacting the Department of Welsh and Celtic Studies cymraeg@aber.ac.uk / 01970 622 137.