Strengthening educational links with China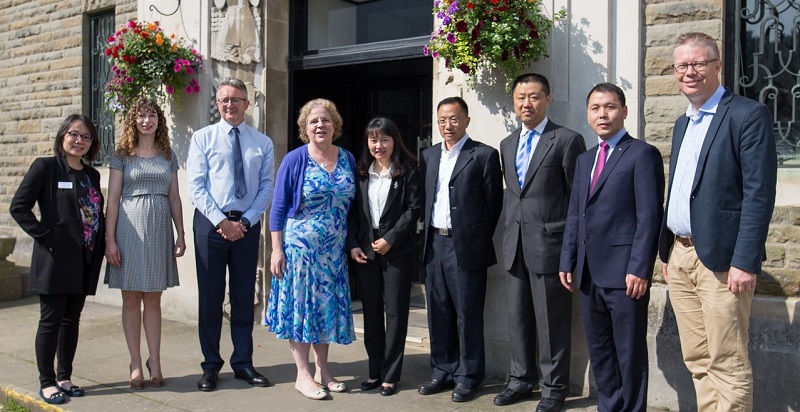 Photo: Left to right: Dandan Wu, East Asia International Officer, Aberystwyth University; Ruth Owen Lewis, Director of the International Office, Aberystwyth University; Professor John Grattan, Pro Vice-Chancellor for Student Experience and International, Aberystwyth University; Professor Elizabeth Treasure, Vice-Chancellor, Aberystwyth University; Professor Lin-nan Huang, Director of the Alumni Association Office, Hohai University; Professor Xin Cai, Director of Office of Planning and Development, Hohai University; Mr Hongsheng Chen, Associate Director, International Office, Hohai University; Professor Yiping Li, Assistant Dean of College of Environment, Hohai University; Professor Rhys Jones, Head of Department of Geography and Earth Sciences, Aberystwyth University

Aberystwyth University has renewed its partnership with China's prestigious Hohai University.
A delegation from Hohai University visited Aberystwyth on Monday 19 June to meet the Vice-Chancellor Professor Elizabeth Treasure and other senior members of staff.
The two institutions first signed a collaborative agreement five years ago and have now agreed to continue the arrangement for a further five years.
The latest Memorandum of Agreement fosters collaboration between Aberystwyth's Department of Geography & Earth Sciences and Hohai University, through the delivery of an environmental science programme.
Established in 1915, Hohai is one of only 75 state universities in China to be developed by the Ministry of Education with the intent of raising the research standards.
Aberystwyth University's Vice-Chancellor, Professor Elizabeth Treasure, said: "Hohai is a prestigious, research-focused university with a strong global reputation and as such, it has much in common with Aberystwyth University. I am delighted therefore that we are today strengthening the bonds between our two institutions and look forward to further collaboration in terms of research and student exchange."
Hohai University's Associate Director of the International Office, Mr Hongsheng Chen, commented: "Hohai University is very keen to bring the collaboration with Aberystwyth University to a higher level and consider AU as one of its major partners in the UK."
Aberystwyth is one of the top 100 universities in the world for the study of Geography according to the 2016 QS World University Rankings by Subject.
AU22017