Aberystwyth School of Art curates Royal Academy's Tunnicliffe Exhibition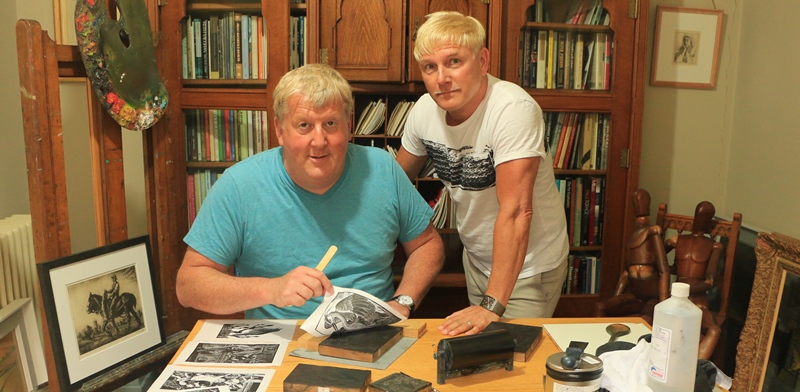 Professor Robert Meyrick (left), Head of Aberystwyth's School of Art and Keeper of Art, and Dr Harry Heuser, a lecturer at the School of Art.
Two art historians from Aberystwyth University's School of Art have curated an exhibition by Britain's foremost twentieth century wildlife artist, Charles F Tunnicliffe, at the Royal Academy of Arts in London.
Second Nature: The Prints of Charles Tunnicliffe RA has been curated by Professor Robert Meyrick, Head of Aberystwyth's School of Art and Keeper of Art, and Dr Harry Heuser, a lecturer at the School of Art.
The show can be seen at the Royal Academy's Tennant Gallery in Piccadilly from 11 July until 8 October 2017.
It's the third time Professor Meyrick and Dr Heuser have collaborated with the Royal Academy of Arts.
The exhibition features a range of artworks by Charles F Tunnicliffe – from fine art prints to his original artwork of flora and fauna for Ladybird Books as well as his Brooke Bond Tea collectible cards.
The exhibition coincides with the publication of Charles Tunnicliffe RA. Prints: A Catalogue Raisonné by Professor Meyrick and Dr Heuser, which features over 400 colour images across 336 pages.  
"Tunnicliffe was renowned for his watercolour paintings of birds, which were both accurate and decorative but when the market for fine prints collapsed in the late 1920s at the onset of a worldwide financial crisis, Tunnicliffe found work in book illustration and advertising and he is often remembered for these illustrations," said Dr Heuser.
"Tunnicliffe's earlier endeavours as an etcher and wood engraver are often overlooked. As a result, his prints have never been documented; nor has there been a critical appraisal of his printmaking career. This catalogue raisonné of prints seeks to redress that oversight."
Professor Meyrick and Dr Heuser have spent years tracking down and documenting all the prints of Charles Tunnicliffe who lived in Anglesey for over thirty years until his death in 1979.
"Establishing a chronology of Tunnicliffe's prints involved research in public and private collections. We scoured auction records, exhibition and dealer catalogues, and drew on the artist's diaries, personal notes and business correspondences. In the absence of lifetime impressions, some copper plates and boxwood blocks were reprinted to obtain an image for reproduction in the book," said Professor Meyrick.
"In sourcing, documenting, interpreting and displaying difficult-to-access artworks and archival materials, our aim is to raise awareness of once influential 20th-century British artists and foster greater understanding and appreciation of print history."
Further details about the exhibition are available on the Royal Academy's website.