Vice President of the Football Association of Wales, Dai Alun Jones, awarded Honorary Degree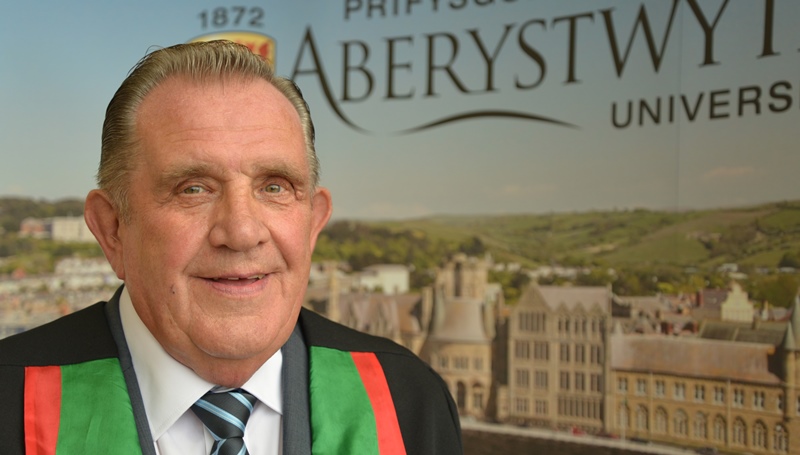 David Alun Jones
David Alun Jones, Vice President of the Football Association of Wales (FAW), has been presented with an Honorary Bachelor Degree in the Sciences by Aberystwyth University in recognition of his services to sport and the local community.
A retired librarian who worked at the National Library of Wales for 37 years, Dai Alun is also President of the Central Wales Football Association, and Chairman of the Ceredigion Ladies Football League.
He served as Chairman of the FAW Youth and Development Committee from 1998-2001 and represented the FAW at the 5th UEFA Youth Conference in Saint Petersburg, Russia, in 1999.
He was a Director of the League of Wales from 1995-1998 and 2003-04, and has been Referees Co-ordinator in the Wales International Soccer Tournament (Ian Rush Competition).
Dai Alun retired from the National Library of Wales in 2003. In addition to his footballing commitments, he is deacon and secretary of Morfa Chapel, Aberystwyth, and Chairman of Waunfawr Community Association.
Dai Alun was presented by Professor Rhys Jones, Head of the Department of Geography and Earth Sciences at Aberystwyth University on Wednesday 19 July 2017.
Presentation of Dai Alun Jones:
Trysorydd, Dirprwy Is-Ganghellor, darpar raddedigion, gyfeillion. Pleser o'r mwyaf yw cyflwyno Dai Alun Jones am radd Baglor er Anrhydedd yn y Gwyddorau Prifysgol Aberystwyth.
Treasurer, Pro Vice-Chancellor, prospective graduates and supporters. It is an honour and a privilege to present Dai Alun Jones for an Honorary Bachelor of Science Degree of Aberystwyth University.
Brodor o Dregaron yw Dai Alun Jones ond ymgartrefodd yn Aberystwyth yn 1966 yn sgil ei benodiad i swydd yn y Llyfrgell Genedlaethol. Ers hynny, mae wedi cyfrannu mewn ffyrdd pellgyrhaeddol ac amrywiol i'w filltir sgwâr, ei sir a'i genedl.
Fe'i etholwyd yn Flaenor yng Nghapel y Morfa yn nhref Aberystwyth yn 1994 a bu'n Ysgrifennydd y capel hwnnw yn ddi-dor ers 2004. Chwaraeodd rhan flaenllaw ym mywyd cymunedol Waunfawr hefyd. Bu'n aelod o Bwyllgor Gweithredol Cymdeithas Gymunedol y Waunfawr ers 1976, ac mae bellach yn Gadeirydd y Gymdeithas honno. Ei ddiddordeb mawr arall yw pêl-droed ac, unwaith eto, mawr fu ei gyfraniad yn lleol. Bu'n chwarae i, ac yn gapten ar, nifer o dîmau pêl-droed lleol ers yr 1950au. Yn ogystal, bu'n un o weinyddwyr amlycaf pêl-droed yn Aberystwyth a Cheredigion ers ei ymddeoliad fel chwaraewr.
Dai Alun Jones has made a significant contribution to a variety of community activities in Aberystwyth and the surrounding area, especially in relation to the Presbyterian Church, Waunfawr Community Association and football throughout the county at a number of levels. But Dai Alun has also contributed much on a national scale, having taken on major administrative roles with the Football Association of Wales. He was elected as a Vice President of the Association in 2012, just in time to witness, at first hand, Wales' amazing run in the European Championships. I'm not sure how much credit, personally, he takes for the team's achievements but he was there supporting them all the way!
Dai Alun Jones, in short, is someone who has made a significant and valuable contribution to religion and sport in his community, his county and his country. He has achieved all of this, while also being a loving husband to Jean, a caring father to Glesni and Nerys and a doting grandfather to five grandchildren.
Trysorydd, mae'n bleser gen i gyflwyno Dai Alun Jones i chi am radd Baglor er Anrhydedd yn y Gwyddorau.
Treasurer, it is my absolute pleasure to present Dai Alun Jones to you for an Honorary Bachelor of Science Degree.
Aberystwyth University Honours 2017
Eight individuals are being honoured by Aberystwyth University during the 2017 graduation ceremonies, which take place at the University's Arts Centre from Tuesday 18 July until Friday 21 July.
Six Honorary Fellowships will be presented to individuals who have, or have had a connection with Aberystwyth or Wales, and who have made an outstanding contribution to their chosen field.
Two Honorary Bachelor degrees will be presented. These are presented to individuals who are members of Aberystwyth University staff without an entry-level degree in recognition of long-service, contribution and dedication to the Institution; and members of the local community who have made a significant contribution to Aberystwyth and the area.
Honorary Fellowships:
Lance Batchelor, Aberystwyth alumnus and Chief Executive Officer of Saga plc.
Professor Martin Conway, Fellow and Tutor in History at Balliol College, Oxford, and Professor of Contemporary European History.
Gareth Howell, an Aberystwyth law graduate who has shown innovative leadership in devising practical solutions to problems in countries facing extreme transitions in their national life.
Heini Gruffudd, Aberystwyth alumnus, teacher, author, and language campaigner, and chairman of Dyfodol I'r Iaith, the lobbying organisation for the Welsh language.
Dr Louise Rickard, Welsh Rugby centurion and Aberystwyth alumna, and currently Head of Biology at Woodbridge School in Suffolk.
Dato' Mohamed Sharil bin Mohamed Tarmizi LLB, an Aberystwyth University alumnus and former telecoms, media and postal regulator in Malaysia.
Honorary Bachelor Degrees:
Alan Lovatt, Senior Grass Breeder in the Institute of Biological, Environmental and Rural Sciences (IBERS) at Aberystwyth University.
David Alun Jones, Vice President of the Football Association of Wales (FAW) and President of the Central Wales Football Association.