Aberystwyth law graduate and former World Bank advisor honoured as Fellow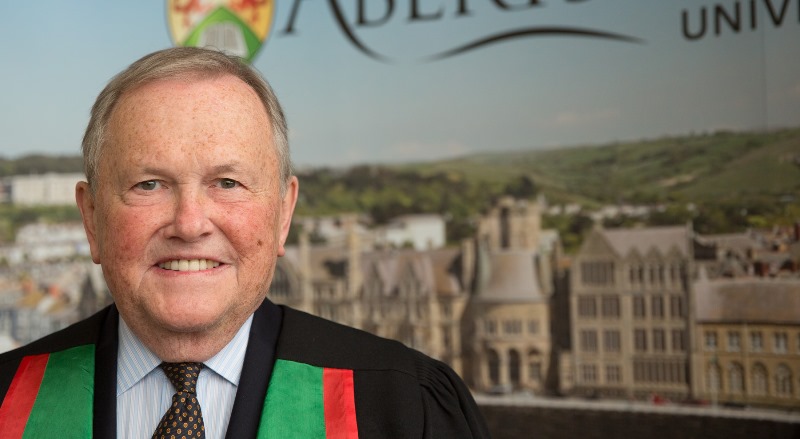 Gareth Howell
Former World Bank and United Nations advisor, and Aberystwyth law graduate Gareth Howell has been presented as Honorary Fellow of Aberystwyth University.
Originally from Cardiff, Gareth has shown innovative leadership in devising practical solutions to problems in countries facing extreme transitions in national life.
From 1980-1995 he helped to improve the quality of higher and technical education in Nepal and Pakistan through World Bank loans.
In 1996 in Bosnia-Herzegovina, in the immediate post-war period, he led a World Bank/European Union task force to raise $130 million to re-employ ex-combatants.
At United Nations (UN) headquarters in New York (1999-2002) he worked with the UN Secretary General to spearhead post-war reconstruction in Kosovo and East Timor, including the alleviation of bad employment practices in child and migrant labour, and steps to redress alleged forced labour in Burma and elsewhere.
Later, (2007-2010) he supported economic and social development in El Salvador, Georgia, Morocco, and Namibia assisting governments to maximize the impact of grants from the US State Department Millennium Challenge Corporation.
He was also a Magistrate in Wales and drafted early proposals for Welsh constitutional development, eventually enacted in 1999.
Gareth Howell was presented by Professor John Williams from Aberystwyth Law School at Aberystwyth University on Thursday 20 July 2017.
Presentation of Gareth Howell:
Dirprwy Ganghellor, Is-Ganghellor, darpar raddedigion, gyfeillion. Pleser o'r mwyaf yw cyflwyno Gareth Howell yn gymrawd Prifysgol Aberystwyth.
Pro Chancellor, Vice-Chancellor, prospective graduates and supporters. It is an honour and a privilege to present Gareth Howell as a Fellow of Aberystwyth University.
Gareth Howell is a native of Cardiff, although has family links in North, Mid and South Wales. He graduated from the Department of Law at what was then the University College of Wales Aberystwyth, in 1964. The Department was the only one in Wales and was led by Professor Llewelfryn Davies along with three other colleagues including Peter North and Hywel Mosley. The Department was located on the seafront in a small terraced row of houses. As a student, he lived in Pantycelyn Hall – so, unusually for students in those days he endured a brisk walk to get to Professor Davies' Constitutional Law lectures on time – Llewelfryn was not a person to allow unpunctuality to go unnoticed.
During his busy and varied professional life, Gareth has been a great friend of Aberystwyth University. In his second home in America, he has been active in developing our alumni presence in Washington and New York. As result of his work and that of many others, last year's high-profile alumni events attracted Ed Thomas the producer of Hinterland as guest speaker. The work of our alumni is critical to maintaining and promoting Aberystwyth's strong international profile. We rely heavily on our alumni and we are grateful to you and others for your commitment and loyalty.
Gareth's dedication towards his alma mater is in addition to what was undoubtedly a hectic and varied professional life - nationally and internationally. The word 'impact' is often used in University life; there can be no doubt of the significant impact that Gareth has made during his long and distinguished career.
His first position was with the Ford Motor Company. He then worked as a consultant assisting new businesses setting up in Wales; he also found time to be a magistrate. His experience as a magistrate was a compelling one in which he observed the huge variety and complexity of people's lives. This remained with him throughout his professional life.
After leaving Wales, Gareth embarked upon an international career involving him in international organisations committed to improving the plight of people experiencing life changing transitions within their countries. In 1992, he was appointed as Program Advisor to the World Bank in Washington. His work involved identifying and managing loans for the development of education in China, India and other Asian countries.
In 1995, he was appointed to the International Labor Organisation, a specialised agency of the United Nations based in Geneva and New York. He was the ILO permanent representative in New York. For the greater part of that time he worked closely with Kofi Annan, the Secretary General of the United Nations. In that capacity, he was centrally involved in the launch of the UN's Social Compact with leading world enterprises.
A key component of that initiative is that business supports and respects the protection of internationally proclaimed human rights. He also worked on eradicating child and migrant labour, on post-war reconstruction and global employment including leading a World Bank task force to raise US$130 million to re-employ ex-combatants in Bosnia.
To these achievements may be added being the President and Chief Executive Officer for the World Affairs Council, Cincinnati, and a senior advisor to the Millennium Challenge Corporation. In that latter role, he helped develop the American Government's foreign grant aid programmes in El Salvador, Georgia, Morocco and Namibia.
A retirement, of sorts, sees Gareth acting as an independent consultant. He advises government bodies, and non- profit and international organisations such as the United Nations and the World Bank, on education and training.
In his spare time, such as it is, Gareth is a patron of the Arts and a keen historian. His scholarly paper on the Welsh non-conformist preacher, Richard Price, is published in the prestigious Welsh Legal History Society Journal.
It is said by some that the study of law is a narrowing experience, it destroys creativity and eradicates passion. Gareth Howell is proof that this is not the case. His legal education here in Aberystwyth enabled him to contribute towards solving some of the many challenges facing today's international society. He is a superb ambassador for Aberystwyth University and an inspiring role model for those students of Law and Criminology graduating here today.
Dirprwy Ganghellor, mae'n bleser gen i gyflwyno Gareth Howell i chi yn Gymrawd.
Pro Chancellor it is my absolute pleasure to present Gareth Howell to you as a Fellow of Aberystwyth University.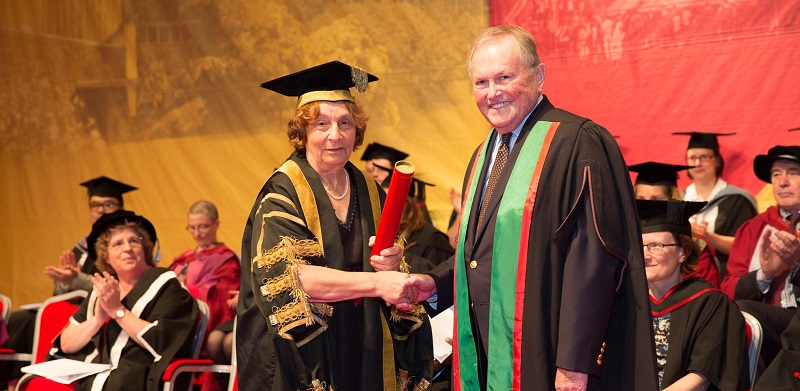 Pro-Chancellor Mrs Elizabeth France with Gareth Howell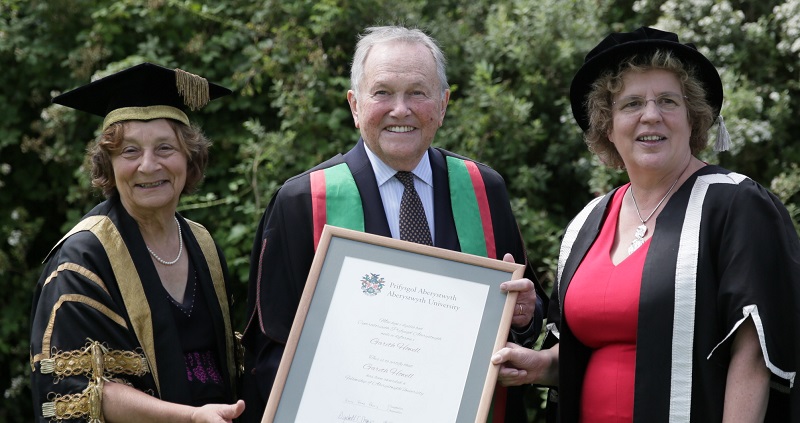 Pro-Chancellor Mrs Elizabeth France, Gareth Howell, and Vice-Chancellor Professor Elizabeth Treasure

Aberystwyth University Honours 2017
Eight individuals are being honoured by Aberystwyth University during the 2017 graduation ceremonies, which take place at the University's Arts Centre from Tuesday 18 July until Friday 21 July.
Six Honorary Fellowships will be presented to individuals who have, or have had a connection with Aberystwyth or Wales, and who have made an outstanding contribution to their chosen field.
Two Honorary Bachelor degrees will be presented. These are presented to individuals who are members of Aberystwyth University staff without an entry-level degree in recognition of long-service, contribution and dedication to the Institution; and members of the local community who have made a significant contribution to Aberystwyth and the area.
Honorary Fellowships:
Lance Batchelor, Aberystwyth alumnus and Chief Executive Officer of Saga plc.
Professor Martin Conway, Fellow and Tutor in History at Balliol College, Oxford, and Professor of Contemporary European History.
Gareth Howell, an Aberystwyth law graduate who has shown innovative leadership in devising practical solutions to problems in countries facing extreme transitions in their national life.
Heini Gruffudd, Aberystwyth alumnus, teacher, author, and language campaigner, and chairman of Dyfodol I'r Iaith, the lobbying organisation for the Welsh language.
Dr Louise Rickard, Welsh Rugby centurion and Aberystwyth alumna, and currently Head of Biology at Woodbridge School in Suffolk.
Dato' Mohamed Sharil bin Mohamed Tarmizi LLB, an Aberystwyth University alumnus and former telecoms, media and postal regulator in Malaysia.
Honorary Bachelor Degrees:
Alan Lovatt, Senior Grass Breeder in the Institute of Biological, Environmental and Rural Sciences (IBERS) at Aberystwyth University.
David Alun Jones, Vice President of the Football Association of Wales (FAW) and President of the Central Wales Football Association.