Chief Executive of Saga plc, Lance Batchelor, presented with Honorary Fellowship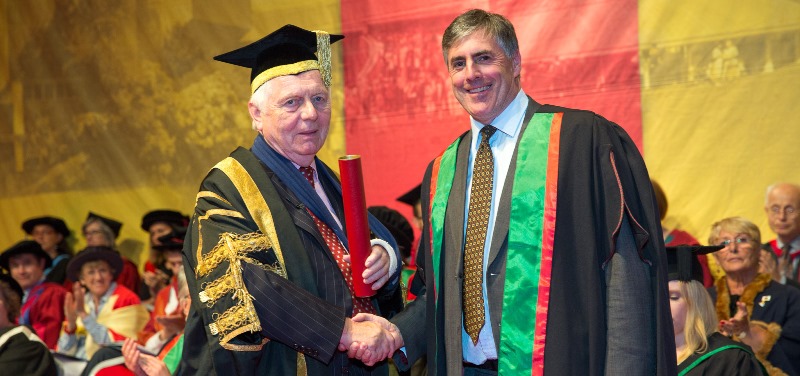 Sir Emyr Jones Parry presenting an Honorary Fellowship to Lance Batchelor, CEO of Saga Plc.
Lance Batchelor, the Chief Executive Officer of Saga plc, has been presented with an Honorary Fellowship from Aberystwyth University.
An alumnus of the University, Lance joined Saga in 2014 prior to the company being listed on the Stock Exchange.
He was the CEO of Domino's Pizza plc from 2011-14, CEO of Tesco Mobile from 2008-11, and has also been Marketing Director at Procter & Gamble, Amazon.com and Vodafone.
Lance's early career was in the Royal Navy, where he served for eight years from 1982-1991, including service on minesweepers and submarines.
Lance holds a BSc (Econ) from Aberystwyth University (1985) and an MBA from Harvard Business School (1993).
He is a Trustee of the National Gallery and Chairman of the National Gallery Company.
He is also a Trustee of The White Ensign Association and Vice Patron of The Royal Navy and Royal Marines Charity.
Lance was presented by Dr Sophie Bennett, Lecturer in Management at Aberystwyth Business School on Friday 21 July 2017.

Presentation of Lance Batchelor:
Ganghellor, Is-Ganghellor, darpar raddedigion, gyfeillion. Pleser o'r mwyaf yw cyflwyno Lance Batchelor yn gymrawd Prifysgol Aberystwyth.
Chancellor, Vice-Chancellor, prospective graduates and supporters. It is an honour and a privilege to present Lance Batchelor as a Fellow of Aberystwyth University.
Lance has an impressive CV in the world of business. He is currently Group Chief Executive Officer of Saga, the travel, insurance and healthcare group for the over 50s.
He is also an Aber graduate who studied for a BSc Econ in International Politics and Strategic Studies here in the 1980s.
After his graduation ceremony, he went on to an eight year career in the Royal Navy, during which time he became the navigating officer of a nuclear submarine and rose to the rank of Flag Lieutenant to the Flag Officer Submarines. Lance then returned to the world of higher education, studying for an MBA at Harvard Business School. He subsequently embarked on a career at Procter & Gamble, after winning a place on their trainee scheme.
Eight years later, while working for P&G in the US, he moved to online retailer Amazon in Seattle as a general manager running its DVD business.
Two years later, he returned to the UK as Vodafone's marketing chief in the UK then another two years down the line, he became the company's global marketing director.
Lance left Vodafone in 2006 to set up his own personal computer troubleshooting company - The PC Guys - which grew rapidly across the South East of England before being bought a year later by Tesco. And soon after, Lance became Marketing Director of Tesco plc.
In 2008 he was moved into the role of CEO of Tesco Telecom, drawing on the telecoms experience developed at Vodafone. Then, in 2011, he was appointed to the role of CEO of Domino's Pizza Group.
His performance at Domino's was praised as he oversaw a period of strong growth there. Not surprisingly perhaps, he was head hunted in 2014 for his current position as Group Chief Executive of Saga plc.
Lance once said the more people you meet, the more opportunities you create in life.  A headhunter he'd spoken to many years ago asked about his other interests. He told them he was fascinated by art and went to galleries all over the world. Five years later, the National Gallery asked them to find a businessperson passionate about art – and he is now a Trustee of the National Gallery as well as a Council Member of The White Ensign Association.
And now, to add to all these achievements, we are delighted that he has agreed to accept an Honorary Fellowship from Aberystwyth University.
Chancellor, it is my absolute pleasure to present Lance Batchelor to you as a Fellow of Aberystwyth University.
Ganghellor, mae'n bleser gen i gyflwyno Lance Batchelor i chi yn Gymrawd.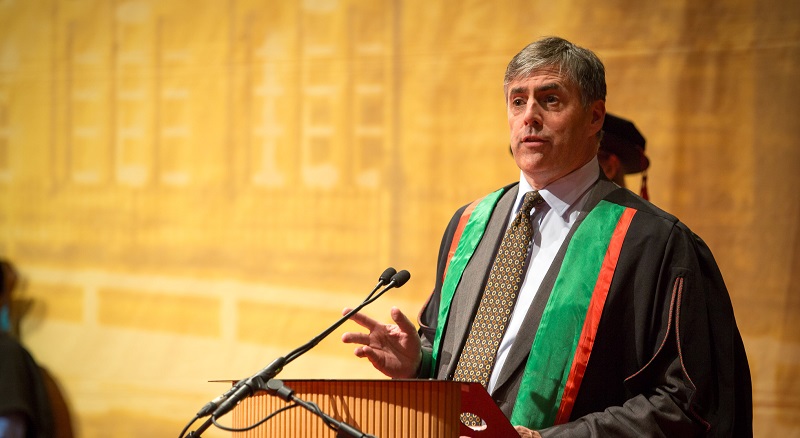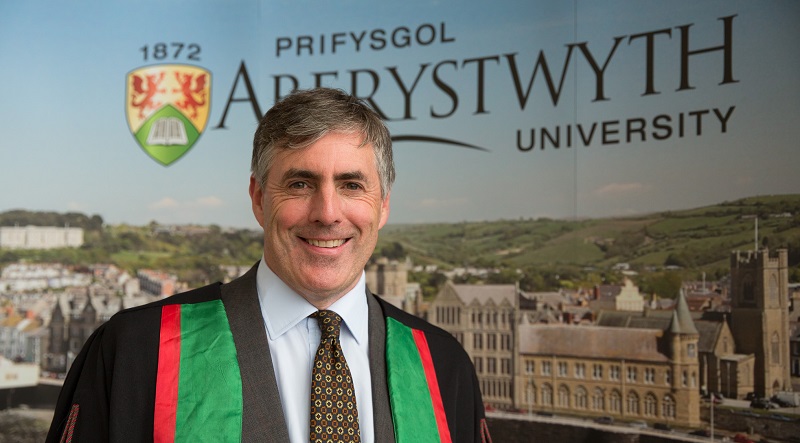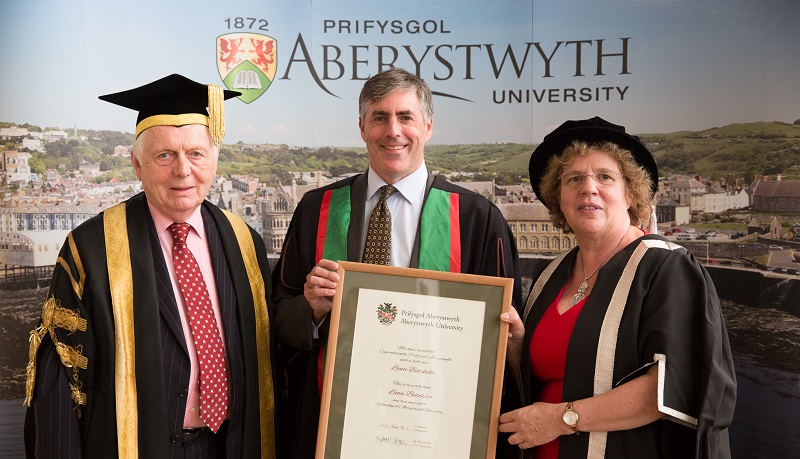 Chancellor Sir Emyr Jones Parry, Lance Batchelor, Vice-Chancellor Professor Elizabeth Treasure
Aberystwyth University Honours 2017
Eight individuals are being honoured by Aberystwyth University during the 2017 graduation ceremonies, which take place at the University's Arts Centre from Tuesday 18 July until Friday 21 July.
Six Honorary Fellowships will be presented to individuals who have, or have had a connection with Aberystwyth or Wales, and who have made an outstanding contribution to their chosen field.
Two Honorary Bachelor degrees will be presented. These are presented to individuals who are members of Aberystwyth University staff without an entry-level degree in recognition of long-service, contribution and dedication to the Institution; and members of the local community who have made a significant contribution to Aberystwyth and the area.
Honorary Fellowships:
Lance Batchelor, Aberystwyth alumnus and Chief Executive Officer of Saga plc.
Professor Martin Conway, Fellow and Tutor in History at Balliol College, Oxford, and Professor of Contemporary European History.
Gareth Howell, an Aberystwyth law graduate who has shown innovative leadership in devising practical solutions to problems in countries facing extreme transitions in their national life.
Heini Gruffudd, Aberystwyth alumnus, teacher, author, and language campaigner, and chairman of Dyfodol I'r Iaith, the lobbying organisation for the Welsh language.
Dr Louise Rickard, Welsh Rugby centurion and Aberystwyth alumna, and currently Head of Biology at Woodbridge School in Suffolk.
Dato' Mohamed Sharil bin Mohamed Tarmizi LLB, an Aberystwyth University alumnus and former telecoms, media and postal regulator in Malaysia.
Honorary Bachelor Degrees:
Alan Lovatt, Senior Grass Breeder in the Institute of Biological, Environmental and Rural Sciences (IBERS) at Aberystwyth University.
David Alun Jones, Vice President of the Football Association of Wales (FAW) and President of the Central Wales Football Association.