From Wales to Botany Bay: Female Criminals from Wales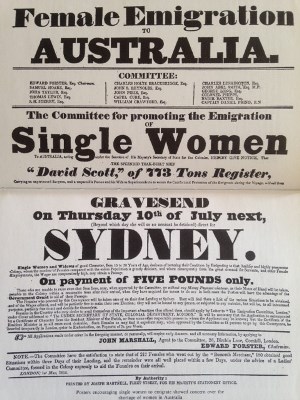 Compared to their male counterparts, relatively little is known of the many thousands of women who were convicted, often for petty crimes, and transported to Australia by the British Government during the 18th and 19th centuries.
The plight of the Welsh women in their midst will be discussed by Aberystwyth University criminology lecturer Dr Lowri Cunnington Wynn at the National Eisteddfod on Tuesday 8 August 2017.
In a lecture entitled From Wales to Botany Bay: Female Criminals from Wales, Dr Wynn will discuss the history of Welsh women convicts in Australia, the crimes they committed, their stories and backgrounds, and what happened to them once they reached their destination.
"Little is known about the women who were transported to Australia and what is cannot be trusted", said Dr Wynn.
"The history of transporting British "criminals" to the British colonies is a colourful one. Between 1788 and 1868, around 162,000 convicts were transported for their "crimes" by the British Government to various penal colonies in Australia. More is known about the male convicts but an account of the 24,000 women who were transported, often for petty crimes, provides only a snapshot of their experiences."
Speaking of the Welsh women convicts who found themselves at the other side of the world for stealing a shawl or a dress from their mistress, Dr Wynn said: "There isn't a great deal that gives close accounts of the women's experience and what is known is clouded by women's social status as second class citizens and biased historical accounts authored by men.
"Welsh women convicts were not looked upon favourably, but rather as symbols of Eve in the Garden of Eden and her fall from grace. Most were portrayed as whores, luring men to their beds with their "shameless" behaviour. But as is often true, these stories are biased and reflect the opinion of women at that time."
In her lecture, Dr Wynn will also provide social and historical context to the plight of those Welsh women who were transported and the rationale behind transportation.
The lecture takes place on the Aberystwyth University stand at the National Eisteddfod at 3.30pm on Tuesday 8 August and is part of a week-long programme of events hosted by the University during the Eisteddfod.