Education Secretary attends Summer University Graduation Ceremony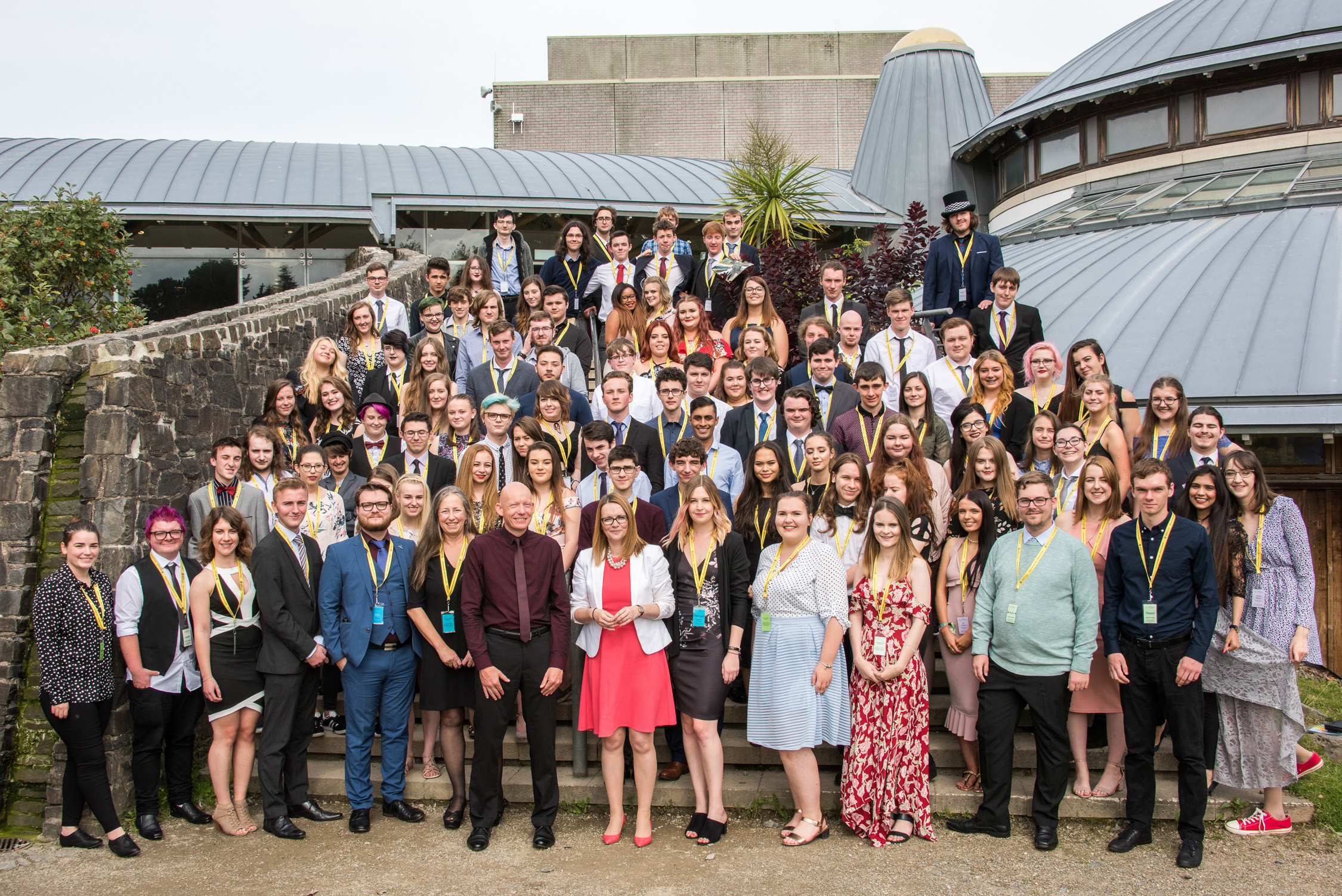 Kirsty Williams AM, Welsh Government Cabinet Secretary for Education with Aberystwyth Summer University Students.
Kirsty Williams AM, Welsh Government Cabinet Secretary for Education, was guest of honour at the Aberystwyth Summer University Graduation Ceremony on 25 August 2017.
Aberystwyth's flagship Summer University programme is aimed at widening access to higher education.
Now in its 17th year, the six-week residential programme of lectures, research and presentations as well as sports and social activities, culminated in a glittering 'graduation' ceremony held in the Great Hall at Aberystwyth Arts Centre.
This year's cohort comprised 91 young people from all over Wales and the ceremony was an opportunity to congratulate and celebrate their hard work and achievements.
Kirsty Williams AM, Welsh Government Cabinet Secretary for Education gave the opening address and presented the graduating students with their certificates, alongside Pro Vice-Chancellor Dr Rhodri Llwyd Morgan and Dr Debra Croft, Director of Equality and Manager of Aberystwyth University's Centre for Widening Participation, Equality and Social Inclusion which organises the Summer University.
Kirsty Williams AM, Welsh Government Cabinet Secretary for Education said, "A large number of bright young people face numerous barriers in obtaining a college degree, whether because of the cost, having a disability or long term illness or even not having the confidence to apply to a University because there is no family experience of higher education. Aberystwyth Summer University helps young people overcome these barriers by preparing them for higher education and student life and exploring their potential through learning new skills and studying new subjects."
Dr Rhodri Llwyd Morgan said, "As an institution, we place great emphasis on widening access to higher education and removing barriers to Higher Education - whether physical, social, cultural or financial. As well as our flagship Aberystwyth Summer University programme, we also run shorter courses during the year and go out to schools across Wales to raise aspirations and promote opportunities."
Dr Debra Croft said, "The strength of the Aberystwyth Summer University is that it mirrors university life as realistically as possible. The students have a full six weeks in which to immerse themselves in university life, adjusting to being away from home, to the combined pressures of academic work and deadlines, sports and activities. They have a choice of 3 from 27 academic modules, and complete 3 core and life skills modules as well. We are immensely proud of everyone who does the course and those who then go on to follow an undergraduate degree programme. This year seven of the students will start at Aberystwyth in September."
Since 2012, around 85% of students who have successfully completed the Aberystwyth Summer University have gone on to Higher Education.
James Hutin completed the Summer University this year and is returning to Ysgol Aberconwy School for year 13 to study Drama, Film and Music. He said, "Summer Uni is a great experience and can help massively with the decision of attending university, as you get to learn how everything works and decide whether you like it before you actually go. The six weeks have been amazing…"
The Aberystwyth Summer University also offers valuable work experience for current Aberystwyth University students to work as student leaders. As Dr Debra Croft explains, "The Summer University not only benefits the young people who study with us. It also gives real experience to our team of Student Leaders and Co-ordinators, as they assist with pastoral care and co-ordinate sports and social activities on the course.
"The Leaders are current students who have been trained to provide a high level of motivation and care to the summer students – some of whom have not stayed away from home before. This opportunity enables them to really hone their skills and increase their graduate employment opportunities."
One of this year's Co-ordinators was Amelia Sellers from Holyhead. Amelia was a Summer Uni student in 2013 and went on to graduate this year in Fine Art. Last year she was a Student Leader and this year is co-ordinating the team, alongside Jordan Thorpe, a Maths and Education graduate.
Nuffield Foundation Research Placements
The Aberystwyth Summer University 'graduation' ceremony also acknowledged the work of seven Nuffield Foundation Research Placement students who have spent their summer working with researchers at Aberystwyth University.
Nuffield Foundation Research Placements are offered to Year 12 students. Co-ordinated in Wales by Techniquest, the scheme helps students gain experience during their summer holidays in industry or research institutions covering Science, Technology, Engineering and Maths (STEM) projects.
One of this year's seven Nuffield Foundation Research Placements is Siân Russell who studies Maths, Further Maths, Physics and Chemistry at Aberdare Community School. "Experiencing contemporary research has helped me develop skills and find out I had interests in things I hadn't before (such as coding). Also being a part of the Nuffield placement alongside the Summer University has helped me become more confident in actually going to university, meeting new people and experiencing life!"
Applications to Aberystwyth University's Summer University 2018 will open in the new year for young people who are currently studying towards A-levels or NVQ Level 3. Places are limited and priority will be given to applications from students who satisfy the main Welsh Government priorities.
Priority for places goes to Welsh students who live or go to school / college in a Welsh Communities First area, in a Pathway school or other area that sends few people to University.
Special consideration is also given to young people, amongst others, who:
are from a care / care leaver / young carer background
are the first from their family to go to university
have a disability or long-term illness or specific learning difference
are from an under-represented ethnic group
want to study a subject where one gender is under-represented
have had a traumatic event which has affected their education.
Ends