Aberystwyth physicists use pioneering new x-ray facility to study diamonds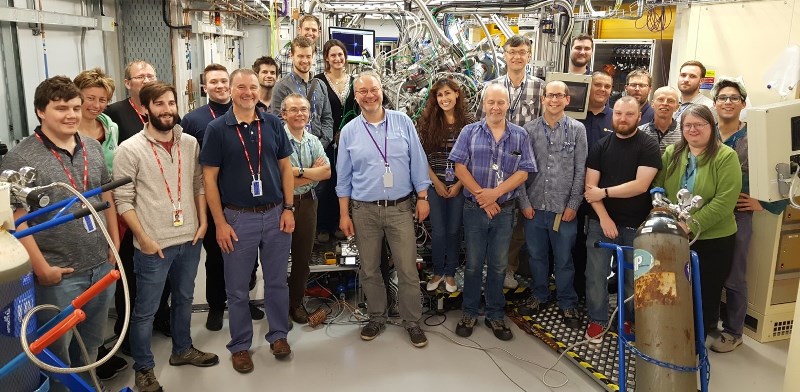 Professor Andrew Evans (front row, third from left) at the opening of the new VERSOX facility at Diamond Light Source.
Scientists from Aberystwyth University are among the first to have used a pioneering new x-ray facility at one of the world's most advanced scientific facilities.
The new VERSOX facility at the UK's national synchrotron radiation facility in Oxfordshire was developed by a team of scientists including Professor Andrew Evans, head of the Department of Physics at Aberystwyth.
Professor Evans chairs the User Working Group of the multi-million pound VERSOX project which delivered its 'first light' in June 2017.
Professor Evans and colleagues from the Materials Physics research group at Aberystwyth used the new facility to study diamonds at the beginning of August.
Their work focused on nanodiamonds which measure just 5 nanometres across. Over a million diamonds would fit on the head of a pin.
The team are studying how these tiny diamonds supplied by diamond producer DeBeers could be used to improve the way drugs are delivered in the body for the treatment of conditions such as cancer.
Five years in its development and construction, VERSOX is part of Diamond Light Source at the Harwell Campus in Oxfordshire.
Designed to work like a giant microscope, Diamond Light Source harnesses the power of electrons to produce bright beams of light that scientists can use to study anything from fossils to jet engines, viruses and vaccines.
VERSOX is one of a series of laboratories known as 'beamlines' that capture the bright light beams, giving researchers access to a machine 10,000 times more powerful than a traditional microscope.
Described as a versatile soft X-ray facility, VERSOX has been designed for the study of elements including those essential for life: carbon, nitrogen and oxygen.
Professor Evans said: "VERSOX provides a unique advanced tool for future materials development, as it allows researchers to study the atomic structures, the chemical nature and the composition of surfaces at near-ambient pressure, providing important real-world data for a wide range of materials and applications.
"The facility will be of benefit to a diverse range of scientific areas, including pharmaceuticals, electronics, environmental chemistry and heritage conservation and we are delighted that the Aberystwyth group is one of the first to use it," he added.
Researchers at Aberystwyth University specialise in the physics of diamond surfaces and coatings with molecules, metals, insulators and graphene and also in the interaction of diamonds with light to pave the way for making new quantum structures.
Aberystwyth is one of eight partner universities to have been awarded a new Centre for Doctoral Training in Diamond Science and Technology (CDT) by the Engineering and Physical Sciences Research Council.
The work of the CDT promises many pioneering diamond-enabled technologies and original scientific insights.
PhD students from the University are using the soft x-ray methods available through VERSOX to probe interfaces between diamond, nanodiamond and organic molecules for applications in electronics, quantum computing and drug delivery.
A world authority on diamond surfaces, Professor Evans is a guest speaker at the week-long European Materials Research Society 2017 Fall Meeting and Exhibition which opens in Warsaw Poland on Sunday 17 September.
Click here to learn more about studying Physics at Aberystwyth University.