Aber Archers shooting onto the world stage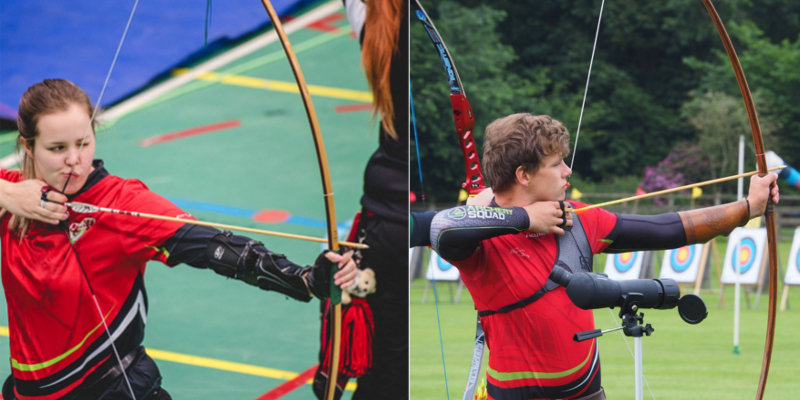 Beth Duthie (Credit: Emily J Photography - www.facebook.com/EmilyRobertsMedia/) and Alex Newnes
Two Aberystwyth University students are part of the Great British team which will be competing at the World 3D Archery Championships in Robion, France from 19-24 September, 2017.
Alex Newnes, a PhD student from the Institute of Biological, Environmental and Rural Sciences, and Beth Duthie, a third-year Law undergraduate were selected as two of the top archers in the UK to represent the country at the event.
Alex, who is from Rhos-on-Sea in North Wales, said: "We are thrilled to have been selected to join the British team to compete at this event. This is a first for the University archery club, and the first time Beth and I will have competed internationally.
"Archery at Aberystwyth University is booming. Members of the University's archery club, Aber Archers, are highly ranked, with a number of county, Welsh and British records between us.
"I picked up a bow for the first time as an undergraduate at Aberystwyth, and whilst studying for my degree, MSc and PhD, I have become the county, Welsh, British and BUCS (British Universities & Colleges Sport) indoor champion, the British Target and Field champion and the #1 field archer in Wales in my discipline."
The Aber Archers is a student society. Run by students, for students, it is the largest University-based archery club in the UK.
Beth Duthie, who comes from Derby, said: "I am delighted to be taking part in the World 3D Archery Championships, which is the highest profile and most highly competitive 3D archery tournament in the world. Alex and I are very grateful to the Aber Fund for supporting us with our travel expenses to attend the event."
The Aber Fund is the University's giving programme for alumni, parents, staff and friends of the University to support projects that directly enrich student experience and development and help advance the ambitions of the university. This has included supporting student coaching programmes, student hardship, wellbeing projects and many more.
AU31817