Aberystwyth University hosts second David Trotter memorial lecture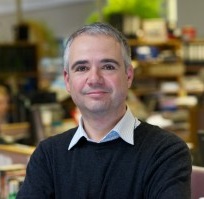 Philip Durkin
The Deputy Chief Editor of the Oxford English Dictionary will deliver the second David Trotter Memorial Lecture at Aberystwyth University on Friday 20 October.
Dr Philip Durkin will lecture on 'Minding the gap: what we can learn from gaps in the surviving records for Middle English and Anglo-Norman'.
Hosted by the Department of Modern Languages, the lecture takes place at the Seddon Room in the Old College and starts at 6pm, with a drinks reception from 5.15pm. All are welcome to attend.
Amongst his many areas of expertise, Dr Durkin lists etymology, history of the English language - especially lexis, loanwords in English, language contact, medieval multilingualism, historical lexicography, and approaches to lexicography.
His 2014 volume Borrowed Words: A History of Loanwords in English, published by Oxford University Press, traces the history of loanwords in English from the earliest times to the present day.
Professor Wini Davies, Head of the Department of Modern Languages, said: "We are delighted to be able to welcome Dr Philip Durkin to give the second David Trotter Memorial Lecture and to hear him speak on a subject that was very important to David himself. David was an eminent lexicographer and chief editor of the Anglo-Norman Dictionary (AND), based at Aberystwyth, until his death in 2015.
"The AND, which recently received another tranche of funding from the Arts and Humanities Research Council under the leadership of Dr Geert De Wilde and Dr Heather Pagan, makes an important contribution to the history of English as well as the history of French and has provided much data for the Oxford English Dictionary. It is therefore entirely fitting that the lecture by Dr Durkin will discuss links between these two varieties."
Professor David Trotter was a leading international authority on French language and lexicography and head of the Department of Modern Languages at Aberystwyth University.
A former president of the Société de Linguistique Romane (2013-15) and a corresponding member of the Paris-based Académie des Inscriptions et Belles-Lettres, Professor Trotter was a recipient of the Prix Honoré Chavée and a fellow of the Learned Society of Wales.
He was a graduate of Queen's College Oxford and was appointed chair of French at Aberystwyth in 1993.