Alumni couple leave £2m legacy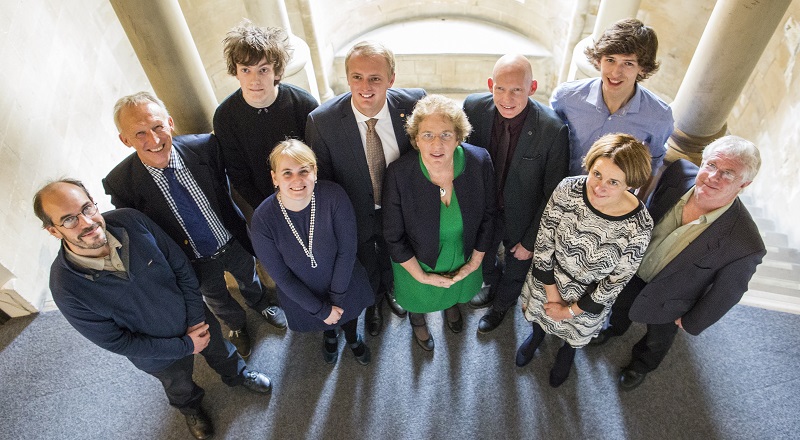 Postgraduate students Ben Hulme and Keziah Garratt-Smithson, pictured 3rd and 4th from left, are the first beneficiaries of the endowment fund established from the bequest of the late Eleanor and David James.
Two former members of staff who met and married while working at Aberystwyth University have left a legacy of £2m to the institution.
Aberystwyth alumna Eleanor and her husband David James made a bequest for a permanent endowment to fund a research scholarship for postgraduate students with links to Aberystwyth or Wales.
The first awards from the fund were made in October 2017 to two PhD students at the University.
Eleanor and David James worked in different departments at Aberystwyth University for more than 35 years from the 1950s until their retirement in the 1990s.
Born in the town, Eleanor attended Ardwyn Grammar School and went on to university in Aberystwyth, graduating with a First Class Honours degree in Pure Mathematics in 1956 followed by a First Class Honours degree in Applied Mathematics in 1957.
She was appointed as an assistant lecturer in 1957 and a lecturer in Pure and Applied Mathematics in 1969. Dr James was awarded a doctorate around 1966 and became a valued member of the Nonlinear Differential Equations research group.
Both Eleanor and David were active members of Aberystwyth's Old Students' Association, with Eleanor taking on the role of treasure for many years.
Originally from Myddfai in Carmarthenshire, David came to Aberystwyth in 1955 after being appointed to a lectureship in the Agricultural Botany Department.
Described as an inspiring lecturer, David had experience in practical agriculture as well as a specialist interest in plant physiology. He was also Deputy Warden at Pantycelyn.
After his retirement in 1990, David went on to write about the religious and social life of Wales, particularly relating to the farming community with its history and customs, notably Myddfai: its Land and its People and Ceredigion: its Natural History, studies of rural life and its flora and fauna.
Their decision to leave £2m in their will to fund postgraduate research at Aberystwyth University was announced at the institution's annual Founders' Day in Old College on Friday 13 October 2017.
The Vice-Chancellor of Aberystwyth University, Professor Elizabeth Treasure, said: "As members of staff, David and Eleanor James made an outstanding contribution to university life through their research, teaching and scholarship. Their legacy lives on in this extremely generous bequest which will enable PhD students for generations to come to pursue excellence in their field and further enhance the academic strengths of this special University. We owe them an immense debt of gratitude and we will remember them as we remember our original Founders today."
The Director of Development and Alumni Relations at Aberystwyth University, Louise Jagger, said: "Eleanor and David James epitomise the very best of the Aber spirit of scholarship and service. Together, they gave more than 70 years of teaching excellence to the University. Both were active members of the Old Students' Association and we thank them for their support during their lifetime and for their contribution through this legacy to the ongoing success of Aberystwyth University."