Bequest to benefit postgraduate research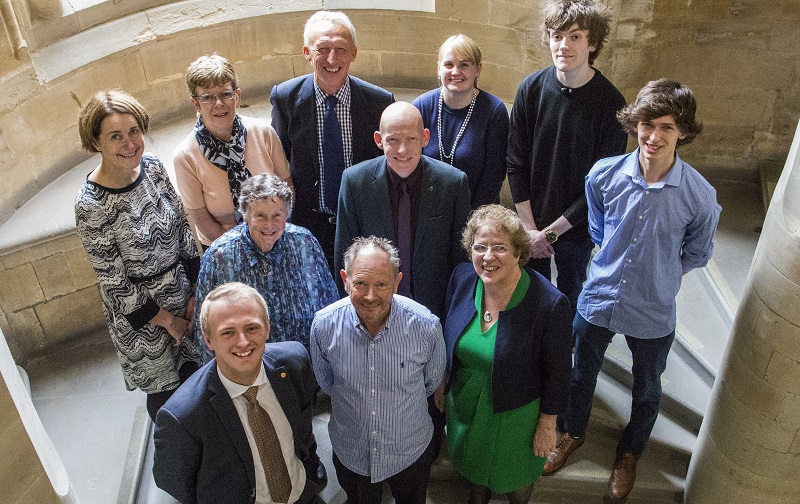 Family and friends of the late Margaret Wooloff join students, staff and alumni at Aberystwyth University to mark her generous bequest to her former university.
An Aberystwyth alumna's lifelong ambition to leave a lasting legacy to her alma mater will be fulfilled in 2018.
Margaret Wooloff, who died in October 2016, has bequeathed £400,000 in her will for the furtherance of postgraduate research at Aberystwyth University.
She graduated from Aberystwyth University with a degree in French in 1943 followed by a postgraduate course in teacher training.
Margaret Wooloff spent her early career teaching in post-war Paris and after returning to Wales, she became Headteacher of the Queen Elizabeth Grammar School for Girls in Carmarthen where she stayed for more than 20 years.
Margaret Wooloff never lost touch with Aberystwyth and was an active member of the University's Old Students' Association.
Her bequest to leave £400,000 to fund postgraduate research at Aberystwyth University was announced at the institution's annual Founders' Day in Old College on Friday 13 October 2017.
The Vice-Chancellor of Aberystwyth University, Professor Elizabeth Treasure, said: "As a teacher and headteacher, Margaret Wooloff dedicated her life to furthering the education of generations of young people. We will ensure that her lifelong work lives on as her generous gift support early career researchers at Aberystwyth University as they strive to make an impact on Wales and the world."
The Head of Development and Alumni Relations at Aberystwyth University, Louise Jagger, said: "Aber holds a special place in the hearts of our alumni across the world. Margaret Wooloff kept in close contact with her alma mater and the Old Students' Association. We have been overwhelmed by the generosity of her bequest, which stands as testament to the importance she placed on educational excellence and her commitment to students."