New working group for campus grounds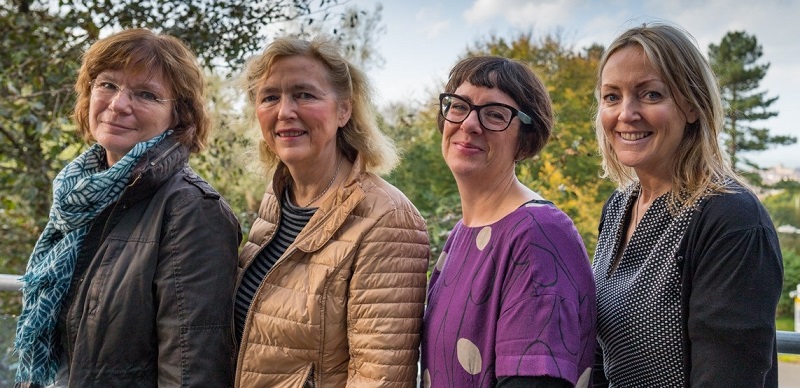 Ros Laidlaw and Dr Caroline Palmer of the Ceredigion branch of the Welsh Historic Gardens Trust pictured after the first meeting of the grounds working group with Rebecca Davies, Pro Vice-Chancellor and Chief Operating Officer at Aberystwyth University, and Andrea Pennock, Head of Estates.
The Welsh Historic Gardens Trust is working with Aberystwyth University in a new partnership to develop a long-term conservation plan for the Penglais campus grounds.
A joint working group has been set up with representatives from the Ceredigion branch of the Trust, with the first meeting held Monday 16 October 2017,
As well as the Trust, the group will include Estates Department staff and the University's own botanical experts.
There will also be consultation with staff and students as part of the development of a conservation management plan for the grounds, which are Grade II* listed by Cadw.
Dr Caroline Palmer, Chair of the Ceredigion branch of the Welsh Historic Gardens Trust said: "We are pleased to be working in partnership with the University on what we envisage will be the development of a long-term plan to be rolled out over a number of years. Our joint aim will be to draw up a policy for current maintenance and future aspirations for this designed landscape. We are fortunate to be able to draw on the knowledge and expertise of former Head Gardener John Corfield who, in conjunction with former curator Basil Fox, was responsible for the trialling and planting of many rare trees and shrubs in the 1970s."
Andrea Pennock, Director of Estates at Aberystwyth University, said: "We are delighted that the Ceredigion branch of the Welsh Historic Gardens Trust will be working with us as we develop our new conservation management plan for Penglais campus as they bring with them a wealth of botanical and historical knowledge of this special site. Our range of discussions will include looking at what kind of planting could be used to replace areas where the plants were no longer viable or causing damage. We will also be drawing on the expertise of the University's own botanical experts and consulting with staff and students as we promote best practice and ensure that our campus grounds remain an asset to be enjoyed by the community as a whole."
A number of distinct areas of garden are covered by the Grade II* listed status. These include the plantings uphill of Pantycelyn designed by leading twentieth-century landscape architect Brenda Colvin in 1963; ground cover plantings from the 1970s around several buildings on Penglais campus, and the older garden at Plas Penglais. The Llanbadarn campus is also listed.