Lifelong learning achievements celebrated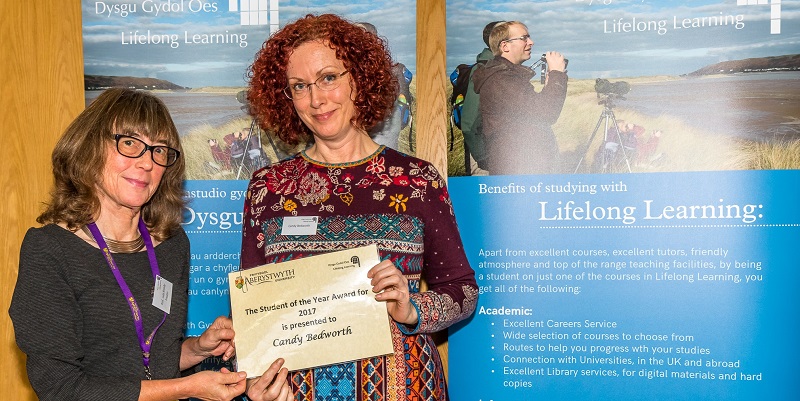 Lifelong Learning Art student Candy Bedworth, one of two Student of the Year award winners, with Professor Judy Broady-Preston, Director of the Institute for Professional Development, Aberystwyth University.
The desire for and the love of learning is a guiding principle for the Lifelong Learning programme at Aberystwyth University.
That was the key message from Professor Judy Broady-Preston, Director of the Institute of Professional Development at Aberystwyth University, at the institution's annual Lifelong Learning and Learn Welsh Awards Ceremony on Monday 23 October 2017.
The successes and achievements of students of all ages on a range of lifelong courses were recognised at the ceremony hosted at the University's Medrus conference centre.
These included the Certificate of Continuing Education that acknowledged learners who have completed 120 credits across a broad range of subjects, and the Certificate of Higher Education, which can take between two and six years to complete on a part-time basis.
Successful students were presented with certificates by Professor Elizabeth Treasure, Vice-Chancellor of Aberystwyth University.
Professor Treasure said: "Aberystwyth University has a long and distinguished history of encouraging life-long learning not only among staff and full-time students but the wider community. It is important to recognise the commitment and the many hours of personal study that this involves and the benefits that lifelong learning brings. I'm delighted that many of our students receiving certificates here today will now progress onto higher levels of study, at Undergraduate and Masters. I wish them all well in their endeavours, and thank our tutors for their dedication to learning and for making all of this possible."
In all, twenty seven students were presented with Certificates of Higher Education in Art and Design, Creative Writing, Genealogy, Languages, Psychology, Field Ecology, and the Diploma of Higher Education in Field and Conservation Ecology.
Individual awards were presented to both students and staff during the ceremony in recognition of their contributions, successes and achievements.
The Rob Strachan Memorial Prize - named after the renowned mammal ecologist, conservationist and Lifelong Learning tutor who died after a short illness in 2014 - was awarded to Suzanne Ellis for her portfolio of work on the Understanding Mammals courses.
Art students Candy Bedworth and Frances Isaac were presented with the Student of the Year Award. Both were nominated for their award by their tutors and fellow students.
Candy, who lives in Mallwyd, was acknowledge for her work on an educational flyer assessment designed for students with sight impairments which was shared at the University's Teaching and Learning Conference in July 2017.
Frances Isaacs from Llangorse near Brecon, was described as an "inspiring" artist and "encouraging and modest" as a fellow student, and someone about whom "everyone had something positive to say".
Three tutors shared the Lifelong Learning Annual Tutor Award.
Ethel Cure, Kaori Oikawa and Patricia Aitchison were nominated for the award by their students.
Spanish tutor Ethel was described as "a gem of a teacher and an example for the language teaching profession."
Kaori, who teachers Japanese, was described as someone who loves her subject and "encourages students to speak to give them confidence in the language they are learning".
An "inspirational tutor who motivates everyone in the class", French tutor Patricia was acknowledged for teaching with "humour and a light touch".
Professor Judy Broady-Preston, Director of the Institute for Professional Development at Aberystwyth University said: "Aberystwyth has rightly been designated as a people's university, founded as it was by ordinary people's subscriptions. The University was established because a local community had both the desire for and the love of learning, and I am delighted that this remains true today. It is not always easy to find time to learn, but those of us who do attend courses such as these benefit in such a wide variety of ways. I would also like to pay tribute to all the staff who design, deliver and organise the courses and say thank you to them."
The event also celebrated the work of organisations that have been promoting the use of Welsh and students who have been learning the language.

The Welsh in the Family Award was presented to former Aberystwyth Mayor and performer Sue Jones-Davies.
The Brecon Beacons National Park was presented with the Welsh in the Workplace Award, and Clwb Clonc Caersws was presented with the Welsh Group of the Year.
Certificates were also presented to students who have successfully completed their WJEC 'Use of Welsh' Entry, Foundation, Intermediate and Advanced qualifications, and the Coleg Cymraeg Cenedlaethol's Welsh Language Skills Certificate.
Further information about Lifelong Learning study opportunities at Aberystwyth University is available online