Rare 1940s Hollywood artefacts on display at Aberystwyth School of Art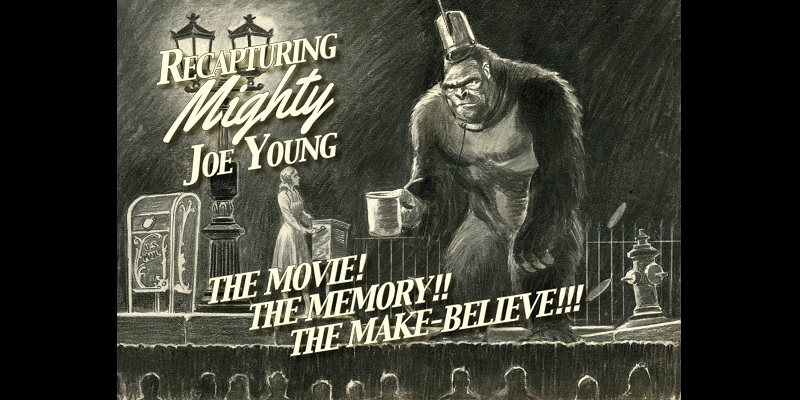 Recapturing 'Mighty Joe Young': The Movie! The Memory! The Make-Believe!
20 November 2017 to 2 February 2018
Aberystwyth University School of Art Gallery


Aberystwyth University School of Art Lecturer, Dr Harry Heuser, has curated an exhibition featuring a unique album commemorating the production of the 1949 Hollywood fantasy movie Mighty Joe Young.
The brainchild of the creative team responsible for King Kong (1933), Mighty Joe Young earned an Academy Award for Special Effects. 
The album contains over one hundred stills from the film as well as documentarian photographs, drawings and watercolour paintings that provide insights into pre-CGI visual effects and the work of the celebrated stop motion animator Ray Harryhausen (1920–2013) in particular.
"The album has never been displayed before," Dr Heuser points out. "Along with hundreds of books and journals, it was bequeathed to Aberystwyth University by the film historian Raymond Durgnat.
"I am keen to recover and display objects of visual culture that encourage us to explore connections between the arts as well as the creative industries and academic disciplines devoted to them. The Mighty Joe Young album tells stories of ingenuity and collaboration, of artistic influences and commercial enterprise.
"There is considerable interest in the artistry of Ray Harryhausen at the moment. Leading up to the centenary of his birth, major institutions, including Tate Britain, have been staging exhibitions of his drawings and sculptures. Our album has attracted the attention of the Ray and Diana Harryhausen Foundation, who will be giving a presentation in our galleries on 22 November. We will also hold animation workshops during the run of the exhibition, and the videos created as part of those workshops will be shown in our galleries."
The album will be displayed alongside film posters and promotional materials, as well as 1940s concept drawings for animated movies and shorts. Also on show are prints by Gustave Doré, whose sublime and fantastic imagery was a precursor to Hollywood magic and served as an inspiration to Harryhausen.
Recapturing 'Mighty Joe Young': The Movie! The Memory! The Make-Believe! is on display at the School of Art from 20 November 2017 to 2 February 2018.  The Gallery is open Monday to Friday, 10:00 to 17:00, closing for Christmas and New Year between 20 December 2017 and 5 January 2018.  Admission is free.