International students make major contribution to Welsh economy
21 November 2017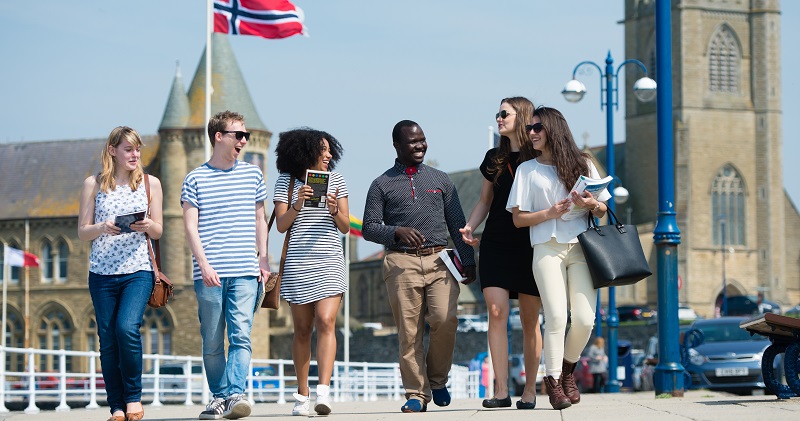 International students contributed £18.4m to the Ceredigion economy during 2015/6.
International students bring significant cultural, social and economic benefits to Wales according to a new report published today, Tuesday 21 November 2017.
The study The Economic Impact of International Students in Wales shows that 22,000 international students from 140 countries world-wide attended Welsh universities during 2015/6 - nearly one in five of the total student population.
Conducted by Viewforth consulting on behalf of Universities Wales, the study reports that international students and their visitors generated £716m of Welsh output during this period.
This significant economic contribution was generated through both on-campus and off-campus expenditure, with tuition fees, accommodation costs, and money spent in local cafes, bars and shops all producing over £372m of Welsh Gross Value Added (GVA) and generating 6,850 full-time equivalent jobs.
The analysis also showed that impact flowed across Wales, with 1,598 jobs also created in areas which do not have a university presence.
Furthermore, at £487m, the money spent in Wales by international students and their visitors was greater than the estimated total international tourist and visitor spend in Wales in 2016.
The report has been welcomed by the Welsh Government's Cabinet Secretary for Education, Kirsty Williams AM: "Wales continues to be recognised internationally as an exceptional place to study and live, with a reputation for excellence. This report demonstrates that the strength of Welsh universities in attracting students from all over the world to study here brings both social and economic value to our campuses and communities, with international students making a significant contribution to the wider Welsh economy."
The report also highlights the economic contribution of international students to Ceredigion.
Ceredigion accounts for 4.5% of all expenditure by international students in Wales and contribute £18.4 million to the local economy every year.
In employment terms, this means that 355 jobs in Ceredigion are sustained by international students attending Aberystwyth University.
Professor John Grattan, Pro Vice-Chancellor International at Aberystwyth University said: "Aberystwyth University has a long and distinguished history of welcoming international students from all parts of the world. This report by Universities Wales underlines their contribution and reflects the esteem in which the education provided by Welsh universities is held by people around the world. Every year we welcome students from more than 90 countries to Aberystwyth and their presence contributes to the rich cosmopolitan student experience here."
Chair, Universities Wales, and Vice-Chancellor of University of South Wales, Professor Julie Lydon said: "This report demonstrates the immeasurable social and cultural value of our international students, showing that their presence brings immediate and significant economic value to our local and national economies. It lays out how an international Welsh higher education sector strengthens Wales' global presence and attracts investment, with an immediate and positive impact on communities across Wales."
Ian Price, Director, CBI Wales (Confederation of British Industry's): "The Welsh business community recognises the significant contribution international students make to the local economy. In an increasingly global trading environment, international students bring new ideas, important skills, and links to networks around the world. These links will become even more crucial in a post Brexit economy; and it is vital that the government and local community look at how they can support the Welsh universities international work to ensure that they can continue to help the country thrive."
Aberystwyth University attracts students from every corner of the world to study at undergraduate and postgraduate levels.
Long established links with Asian countries such as Malaysia ensure the university has a vibrant international community of students that enriches life on campus.
Mila de Clerq from South Africa graduated with a degree in French & Economics from Aberystwyth University in July 2017.
During her time at Aberystwyth, Mila served as President of Aberystwyth University's Erasmus Society.
As part of her degree, she spent a year abroad in France where she worked as a wine tourism guide at Chateau de Taillan in Bordeaux.
Mila now works as a Marketing & Logistics Assistant at Castelnau Wine Agencies in London, a leading French firm which has been importing and selling wine for more than 35 years.
"After graduating, I started applying for graduate-level jobs in London knowing that it can be very tough to get work in the wine industry unless you have good connections. I believe my year abroad gave me a huge advantage in getting a job as I could draw on my language skills and my experience of living and working France. I use my French on a daily basis speaking to suppliers and potential customers, and that makes a real difference."
Further information about the study into the contribution of international students to Wales is available on the Universities Wales website.
Contacts
Arthur Dafis
Communications and Public Affairs
Aberystwyth University
01970 621763 / 07841979452 / aid@aber.ac.uk