Aberystwyth University alumnus wins Landscape Artist of the Year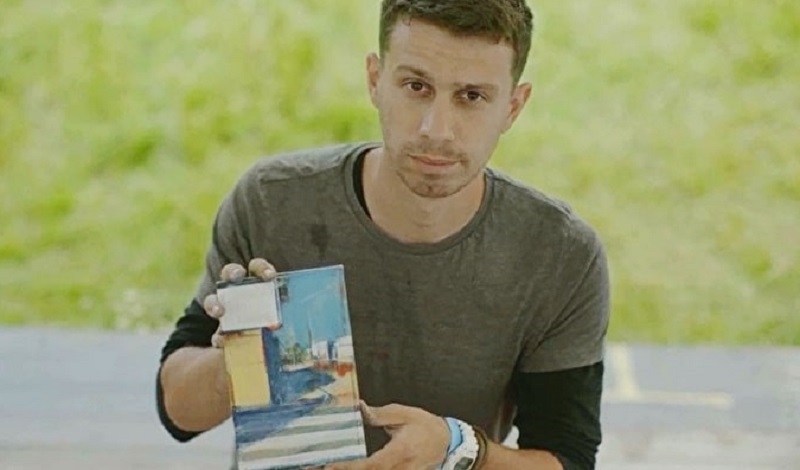 Tom Voyce, winner of SkyArts' Landscape Artist of the Year 2017, graduated with first class honours from Aberystwyth School of Art in 2012, and went on to complete a Masters in Fine Art in 2014.
An Aberystwyth University Fine Art graduate has been crowned SkyArts Landscape Artist of the Year for 2017.
Tom Voyce graduated with first class honours from the School of Art in 2012, and went on to complete a Masters in Fine Art in 2014.
Tom was announced as the winner in the final of this year's competition which was aired on SkyArts on Wednesday 6 December.
One of 48 professional and amateur artists selected for the televised heats of the competition, Tom and his fellow finalists were challenged with capturing the landscape of Winkworth Arboretum in Surrey.
On his way to the final Tom captured the coastal scene on the tidal island of Worm's Head on the Gower Peninsula and the lavender fields of Castle Farm in Kent.
As the winning artist, Tom now receives a £10,000 commission to paint the panorama from Firefly, the Jamaican home of celebrated playwright and artist, Sir Noël Coward, and £500 worth of art materials from Cass Art.
Professor Robert Meyrick, Head of the School of Art at Aberystwyth University has congratulated Tom on his success: "Staff and students of the School of Art are delighted for Tom and immensely proud of his award of Sky Arts Landscape Painter of the Year. Tom has developed a distinctive and dynamic approach to landscape painting. For centuries artists have been drawn to Aberystwyth and its surrounding countryside. They have visited for its combination of pastoral and picturesque, romantic and sublime landscapes. It is small wonder that our students are drawn to paint their environment."
Speaking earlier in the competition, Tom, who is also an art and design teacher at Cheslyn Hay Community High School, said: "I can definitely say that I enjoyed my time in Aber, and especially at the School of Art. I had fantastic tutors who helped me develop and grow, both within my practice and as a person. It absolutely set me up for afterwards.
"After completing my Masters, I was fortunate enough to work at the School of Art as a technician. This allowed me to make full use of the department anytime, and also to gain valuable experience teaching at HE level. This enabled me to go as a visiting lecturer to Huanghuai University in Zhumadian, China - a wonderful experience that prepared me to enter the world of teaching."
Dr June Forster, tutor at Aberystwyth School of Art, said: "Tom took his inspiration from the local landscape and would return time and time again to a location, scrutinising the seasonal shifts in colour and mood and seeking unusual compositions. He understood the importance of researching the techniques of his favourite artists and of continually drawing from observation.
"Always eager to join in extra classes throughout his time at the School of Art, on one memorable occasion he accompanied first-year painters to a stormy, rain-driven Borth and produced a wonderfully atmospheric study, in his shirtsleeves, while everyone else sought shelter! Watching him at work on TV, it is great to see Tom working so enthusiastically and with the same love of paint he showed as an undergraduate."
Hundreds of entries were received for the 2017 Landscape Artist of the Year competition, which highlights artistic talent from every corner of Britain and Ireland, and how the British countryside has inspired past and present generations of artists.
Last year's Landscape Artist of the Year competition saw another Aberystwyth alumnus, Kim Whitby, reaching the final of the competition.