Iolo Williams opens Wallace exhibition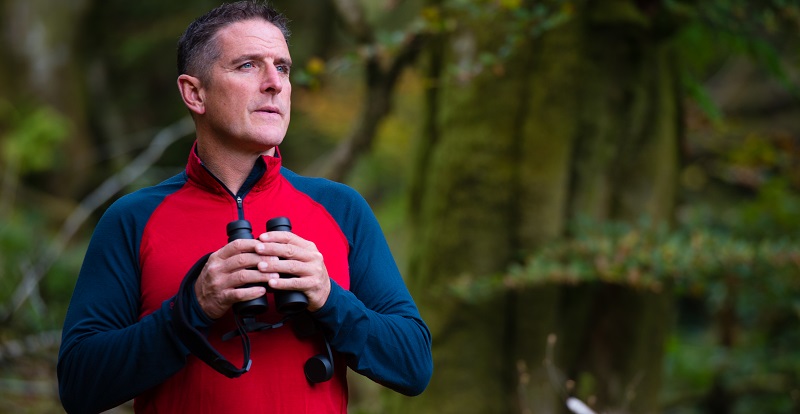 Naturalist and tv presenter Iolo Williams will officially open the Wallace: The Forgotten Evolutionist? exhibition on 8 February 2018.
An exhibition featuring the ground-breaking work of a remarkable Welshman who discovered the process of evolution by natural selection alongside Charles Darwin will be opened by leading Welsh naturalist Iolo Williams at Aberystwyth University's Old College on Thursday 8 February 2018.
Wallace: The Forgotten Evolutionist? tells the story of Alfred Russel Wallace, one of the most prominent evolutionary figures of the 1800s.
On loan from Amgueddfa Cymru-National Museum Wales, the exhibition will showcase a striking selection of the natural history specimens collected by Wallace as part of his research, including bugs, butterflies and birds.
During his lifetime, Wallace collected over 125,000 animal specimens, published more than 800 articles and wrote 22 books. Most famously, he had the revolutionary idea of evolution by natural selection entirely independently of Charles Darwin.
In officially opening the exhibition to the public on Thursday 8 February, Iolo Williams will speak about how Wallace's research and explorations continues to inform and inspire today.
"Wallace was an intrepid explorer, a pioneering naturalist and a remarkable intellectual. This fascinating exhibition - featuring specimens of creatures from far-flung corners - will give people a real understanding of the breadth and depth of his work, and his contribution to our understanding of natural evolution," said Iolo Williams, who is currently presenting Iolo's Snowdonia on BBC One Wales.
Members of the public are invited to attend the official opening events with Iolo Williams at the Old College on Thursday 8 February:
6pm: Iolo Williams session for young people
6.30pm: Official opening
7pm: Q&A with Iolo Williams; Dr Caroline Buttler, Head of Paleontology at Amgueddfa Cymru-National Museum Wales, and Dr Joe Ironside from the Institute of Biological, Environmental and Rural Sciences at Aberystwyth University.
Dr Rhodri Llwyd Morgan, Pro Vice-Chancellor at Aberystwyth University, said: "We've all heard of Charles Darwin and The Origin of Species but surprisingly few know about the immense contribution made by Alfred Russel Wallace to the theory of evolution. In exploring his life and work, this exhibtion will help raise further awareness about this extraordindary Welshman. 
"This is the latest in a series of exhibitions at Old College and is part of our ambitious long-term plan to create a heritage and cultural centre here which will act as an economic and regeneration driver for the area. We are grateful to Amgueddfa Cymru-National Museum of Wales for their valuable support and loan of the exhibition, as well as the Heritage Lottery Fund whose generous Development Grant is helping us develop the vision to restore and repurpose this wonderful building."
David Anderson, Director General, Amgueddfa Cymru, said: "We're proud of our commitment to making the national collections as widely available as possible and delighted to be working in partnership with Aberystwyth University who are displaying the exhibition on one of the leading evolutionary thinkers of the 19th century, Alfred Russel Wallace.
"I hope the display in Aberystwyth encourages local visitors to find out more some of Wallace's life and work."
Wallace was born in 1823 in Usk (now in Monmouthshire). In 1848, he travelled with keen naturalist William Henry Bates to the Amazon to investigate the origin of species.
Wallace also spent time in the Mayal Archipelago (now Malaysia and Indonesia) where, over a period of eight years, he accumulated an astonishing 125,660 specimens, including more than 5,000 species new to western science.
Wallace noticed a striking pattern in the distribution of animals around the archipelago and it was during this time that Wallace had a realisation. He came to understand how species evolved - they changed because the fittest individuals survived and reproduced, passing their advantageous characteristics on to their offspring.
Wallace immediately wrote to someone he knew was interested in the subject, Charles Darwin, who had been working on the very same theory for 20 years, but was yet to publish. He sought the advice of his friends, who determined that the ideas of both men would be presented at a meeting of the Linnean Society. Darwin's masterpiece, The Origin of Species, came out the following year.
From that time on, Darwin overshadowed Wallace and it has usually been his name alone associated with the theory of evolution by natural selection.
Wallace: The Forgotten Evolutionist? will be on display in the Old College, Monday-Saturday 10am-4pm from 9 January until 17 April 2018. Admittance is free and all are welcome.
A series of activity sessions for local schools is also being planned alongside the exhibition in partnership with Aberystwyth Arts Centre, Ceredigion Museum and Amgueddfa Cymru.